Experience Greater Fort Lauderdale's vibrant cultural community as you explore world-class museums, renowned exhibits, and gorgeous street art. Whether it's a permanent installation, traveling exhibit, mural, or magnificent sculpture, you'll find artful experiences throughout the area. 
WMODA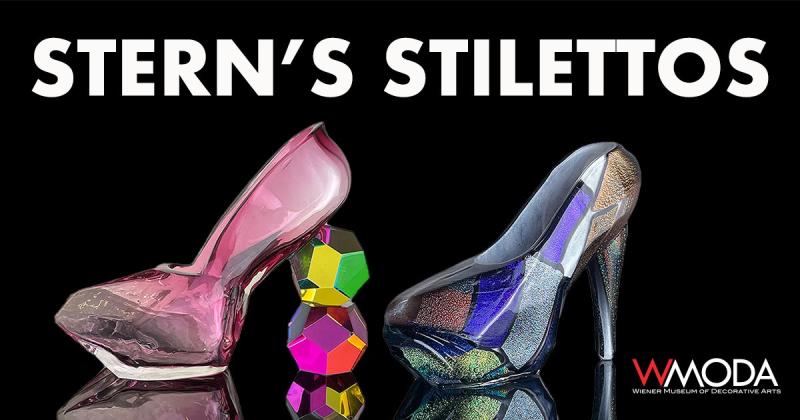 The Wiener Museum of Decorative Arts (WMODA) is a world-class museum in Dania Beach, Florida where there is always something a little bit different on display. This unique museum celebrates the fired arts of ceramics and glass. Its latest signature exhibitions include Stern's Stilettos, Fire & Soul, and Safari Dance.  
Stern's Stilettos is a fabulous exhibition of glass shoes by Miami artist Rob Stern. Inspired by his wife's obsession with and collection of shoes, Stern created this one-of-a-kind installation featuring 50 different glass shoes. The shoes aim to capture and reflect the many moods and moments in a person's life. See Stern's Stilettos at WMODA through January 31, 2022. 
Two new exhibits opening on October 30 celebrate dance in various forms. Fire & Soul focuses on the movement of the body as an expression of the self. From ballet to cabaret, European porcelain artists were inspired to create this exhibition's dynamic and decorative figurines. 
Safari Dance goes beyond the human concept of dance to celebrate the artistic expression of elephants in this fabulous fantasy exhibition of Ardmore Ceramic Art and Design from South Africa. Featured artists capture the joy of dance by portraying the gentle giants humorously in ceramic art as well as on fabric designs for love seats, pillows, and other luxury lifestyle products. 
The LOOP (Las Olas Oceanside Parks)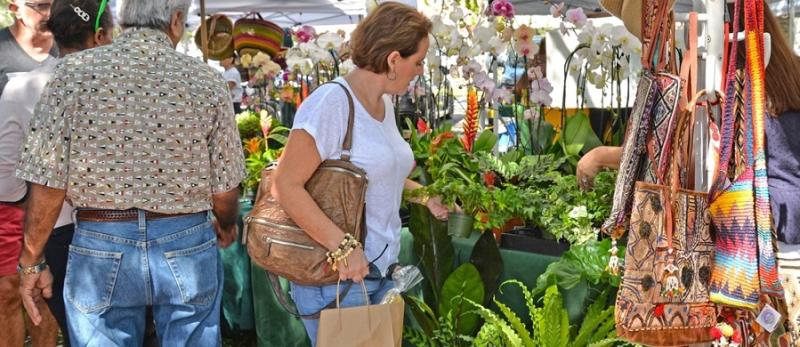 Before the free Friday Night Sound Waves concerts at The LOOP, you can check out Music & Makers from 5 to 6:30 p.m. Engage with local artists and innovators representing the diverse and creative South Florida community at this weekly Friday night pop-up showcasing a rotation of the best vintage items, jewelry, skincare, upcycled clothing, homeware, craft batched foods and handmade accessories. Entertainment during Music & Makers - before Friday Night Sound Waves - includes acoustic music, live art, children's activities, and street performers. 
Art and Culture Center / Hollywood
The Art and Culture Center/Hollywood's major exhibitions focus on the Black experience and systemic justice. On Memory and the Radical Black Imagination is a solo exhibition by Miami-based artist T. Eliott Mansa that incorporates everyday materials often used as roadside memorials and poetically evokes mourning and loss, encouraging a conversation surrounding racism and Black deaths. 
Similarly, Introspective: A Reckoning of the Soul presents the work of South Florida artists that invite guests to collectively pause and look deeper into themselves and imagine what it looks like to embrace the layered and conflicting stories that have shaped our daily lives through the centering of our local communities, Black experiences, and histories. 
Coral Springs Center for the Arts
For a pop of color, visit the Coral Springs Center for the Arts. Their Color + Light + Space exhibition and collaboration with the Florida Watercolor Society showcase an array of color and light that delights the senses.
Color + Light + Space explores the synthesis of color, light, and space and raises questions about the relationship between object and viewer. Contemporary artists Claudio Marcotulli, Devora Perez, Haiiileen, and Renee Phillips bring their unique perspectives through different material use and processes. 
Celebrating their 50th anniversary, the Florida Watercolor Society is working with the Coral Springs Center for the Arts and displaying over 100 works of art by some of the best watercolor artists in the state.
NSU Art Museum Fort Lauderdale 
NSU Art Museum Fort Lauderdale's emphasis on civilization's visual history through the ages results in a diverse collection. Its exhibitions include illustrator William J. Glackens' From Pencil To Paint, Eric N. Mack: Lemme walk across the room and the Carter Project among others.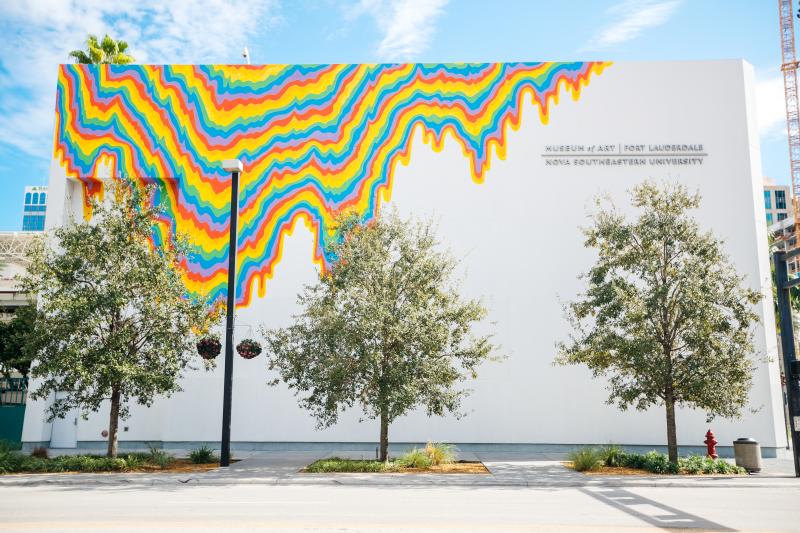 Noteworthy new exhibitions coming for the fall/winter season include Beyond the OK Corral, an augmented reality exhibition by photographer David Levinthal, special effects art director Wilson J. Tang and the YumeGO interactive team, founders of the first AR experience browser. You'll step into Levinthal's iconic photograph Gunfight at the O.K. Corral to create a game-like 3D immersive diorama beyond the surface imagery. Beyond the OK Corral is on display 
The Margarita Cano exhibition celebrates the 90th birthday and work by this celebrated Cuban-born and Miami-based multi-disciplinary, self-taught artist. Her creativity is manifested through wondrous miniature books, votive portraits, landscape paintings, prints, and photographs. 
In addition, the museum's permanent collection contains more than 7,500 works including a large collection of Latin American and Cuban modern and contemporary art and post-war, avant-garde pieces by European Cobra artists.
Beyond Museums
While the Greater Fort Lauderdale area boasts plenty of art museums and galleries, not all art can be found within four walls. The Downtown Hollywood Mural Project is a collection of curated outdoor murals by both local, national, and internationally recognized artists. Take a stroll through the streets of downtown or take a guided mural tour to view murals by artists including Tatiana Suarez, Evoca1, Rone, The London Police, Jessy Nite, Ernesto Maranje, Logan Hicks, and Kenny Scharf.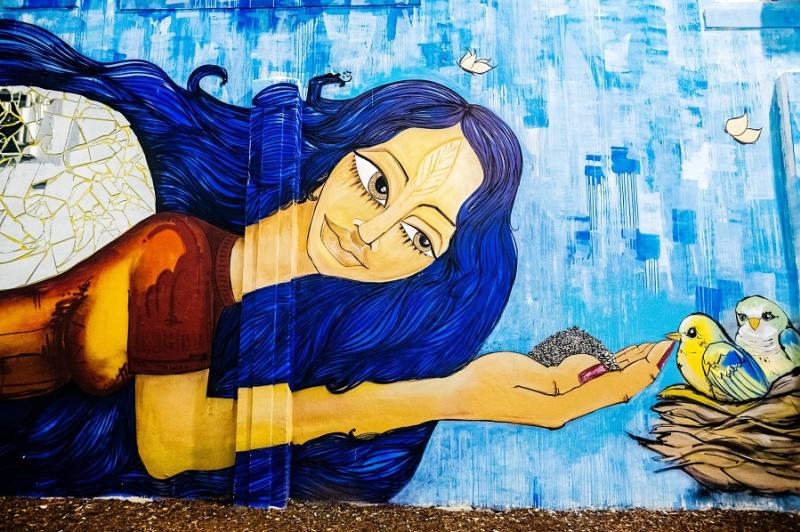 FATVillage in downtown Fort Lauderdale's Flagler Village is a thriving creative enclave packed with vibrant street art murals in addition to art studios and galleries. If you're in town on the last Saturday of the month, don't miss the ArtWalk that also extends into the neighboring MASS District. The evening event is family and pet friendly, with many interactive art experiences, street food vendors, local craft stalls, and live-action art installations.
Nearby you can also find the Mockingbird Trail, an interactive outdoor art gallery. The two-mile path features dozens of public art installations, including South Florida's first multi-sensory mural, "Main Course," by local artist Ernesto Maranje. The exhibit has a texturized wall and motion sensors that trigger smells and sounds, making the installation accessible to all. 
If your travels take you to Port Everglades, one of the largest ports in the U.S. and a major cruise ship hub, you can see more than 20 public art pieces, like Laura Atria's Ocean's Footprint mural featuring native wildlife such as manatees and sea turtles.
A visit to downtown Fort Lauderdale isn't complete without stopping by the Society Las Olas apartments for a selfie at the must-see Thrive by South African sculptor Daniel Popper. The massive seraphic female figure is opening up its chest to reveal a passageway laden with ferns.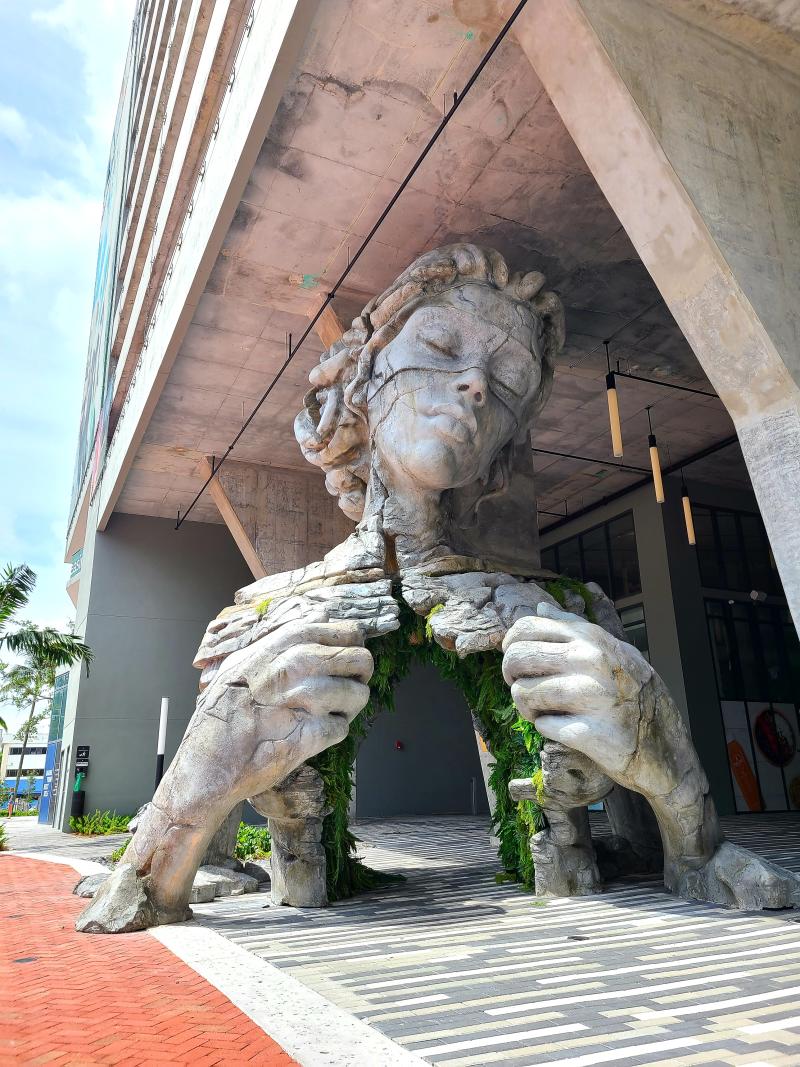 A few blocks away, on the east wall of Cube Libre Restaurant and Rum Bar, Fort Lauderdale's newest mural, Esperanza (Hope), by acclaimed artist Erni Vales, commemorates the one-year anniversary of the uprising in Cuba.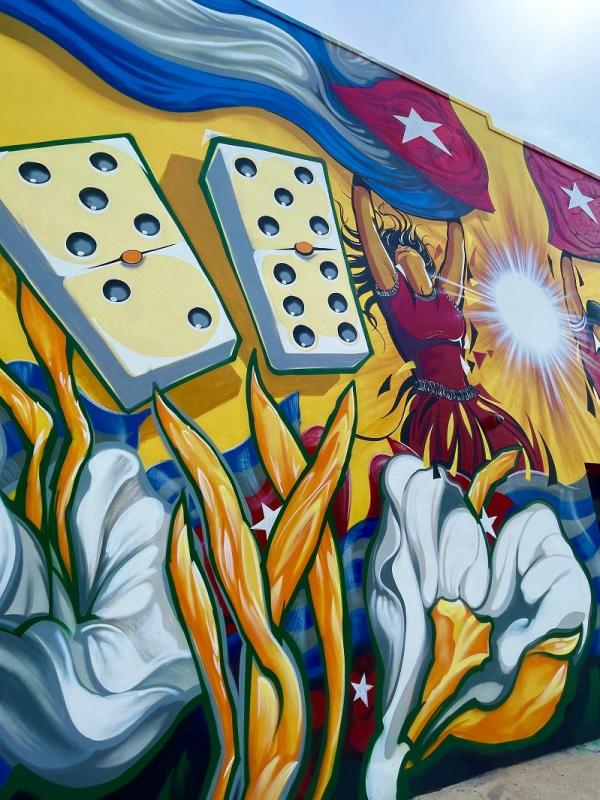 At the entrance to the W Fort Lauderdale on North Fort Lauderdale Beach Boulevard, you'll find the Everyone Under the Sun mural installation by Fort Lauderdale-based, internationally renowned airbrush artist Avi Ram. The mural, sponsored by regional visitors bureau Visit Lauderdale, depicts Mother Nature overseeing the beauty of the area. Her welcoming expression brings to life the destination's tourism slogan Everyone Under the Sun, a reflection of the diverse and inclusive Greater Fort Lauderdale community where all are welcome.