An exciting way to get outside, get active and make the most of Greater Fort Lauderdale's beautiful weather is by hopping on a bike. Whether you're taking a scenic cruise along Hollywood Broadwalk or riding through nature trails, there is an abundance of outdoor routes to explore as you enjoy the warm sunshine and cool ocean breeze.
From riding along the waterways to weaving through winding paths and wooded trails, you might be wondering where you can find the best bike route. Before you head out on your next biking adventure, you can easily plan your route with Broward Metropolitan Planning Organization's county-wide interactive bicycle map. 
This interactive map makes it simple to plan the bike route that suits you best based on your experience and skill level. The map rates major roadways based on the level of expected interactions with traffic, and roadways are color-coded based on the degree of ease or difficulty for a rider, using factors such as traffic volumes, speed limits and travel lanes. 
Explore Greater Fort Lauderdale like a local with the bike-share program Broward BCycle. Choose from classic bikes and electric bikes. You will find stations throughout six Greater Fort Lauderdale cities. The bikes features easy-to-use adjustable seats, front baskets to stow your belongings, three-speed settings and automatic lights to help keep you safe at all times of day. Rates start at just $5. Get a 7-day pass or annual membership online for lower rates. 
Whether you're looking for a challenge off the beaten path or a ride that's fun for the whole family, this map will help you plan the perfect route for any bike ride.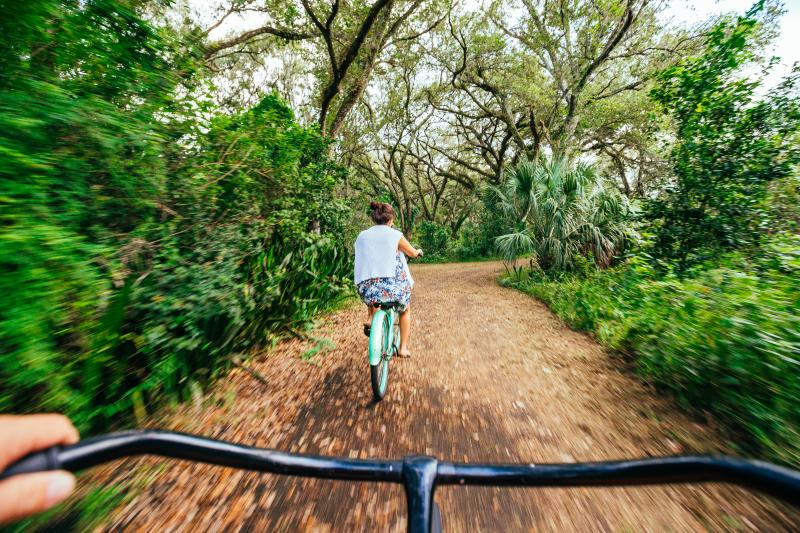 Routes for Beginners and Families
Multi-use paths that are completely separated from traffic are marked in green and are a great starting point for beginning cyclists and families. Also, look out for roadways coded as "moderate" (yellow) or "easy" (blue) on the map. These routes have roadways with lower vehicle speeds, and many have designated street bikeways. Try out Hollywood Boulevard between N Federal Highway and A1A, E Dania Beach Boulevard between N Federal Highway and A1A, or El Mar Drive between Palm Avenue and Pine Avenue.
Routes for Advanced Riders
Advanced riders are those who are more comfortable with navigating more difficult intersections and riding alongside heavier traffic with higher vehicle volumes, indicated by the orange and red coded routes on the map. Take a ride along Hallandale Beach Boulevard, E Atlantic Boulevard to A1A, or E Sunrise Blvd.
Scenic Routes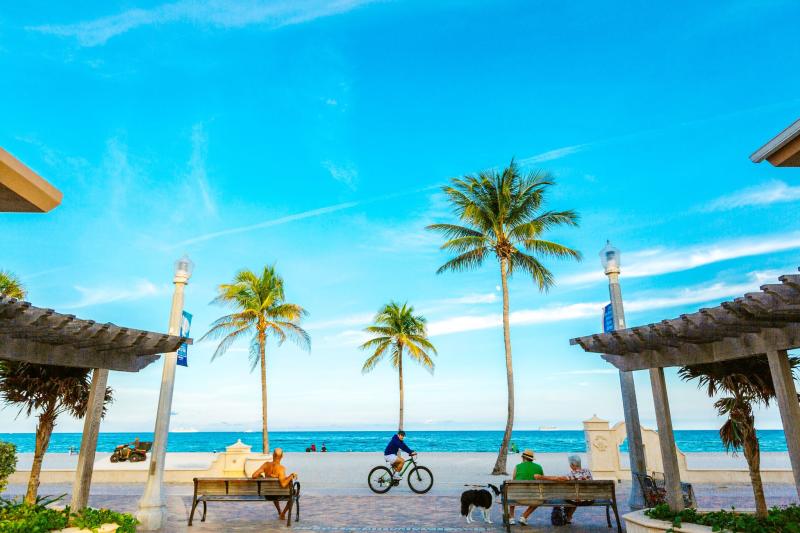 A bike ride is even better with a picture-perfect view, and there's no shortage of scenic spots to cruise through in Greater Fort Lauderdale. Bike by the beach along Hollywood Broadwalk or along A1A in Fort Lauderdale or check out the nature views on New River Greenway along SR-84 or Hiatus Road Greenway in Sunrise.
When biking, always be sure to stay alert, follow traffic laws and ride with traffic rather than against it. Visit the Broward MPO Bike Map to find more routes and plan your safe and exciting bicycle adventure through Greater Fort Lauderdale!
Find More Bike Adventures in Greater Fort Lauderdale
17 South Fort Lauderdale Beach Blvd.

954-530-9844
Rediscover the city's origin on a guided electric bike tour. The Gocycle is the best way to get to…
9501 Sheridan St.

954-357-5150
Opened in 1989, this multi-use park is named in honor of Brian Piccolo, who developed his athletic…
Check out bicycles from 21 public bike stations. You can return bikes to any B-station and only pay…
900 N Flamingo Rd.

954-357-5170
New Aquatics complex includes 2 interactive water playgrounds, tube ride and 2 waterslides.
A1A between Las Olas and Sunrise Boulevards

954-828-5000
The award-winning wave wall and signature beachfront promenade highlight Fort Lauderdale's world…
327 Johnson St.

954-300-5447
Family, Fun, and Fitness enthusiasts with an affinity for Sand, Sun, & Surf! Located steps away…
16001 W State Rd. 84

954-357-8868
Markham Park is home to one of Broward's best shooting ranges! The Markham Park Target Range…
100 W Atlantic Blvd.

954-786-4600
Located just north of Ft. Lauderdale, east of the Florida Turnpike, in the heart of Florida's Gold…
401 S Powerline Rd.

954-357-5100
Water is the focus of this 431.4-acre park, which includes the Splash Adventure water park, Ski…