Most people know and love Greater Fort Lauderdale for its colorful streets and beautiful beaches, but an equally fascinating world is just waiting to be discovered under the glistening waves. Follow the coast from Hillsboro Beach to Hollywood Beach and you will be amazed by the number of unique dive sites featuring everything from marine life to mermaids, just a stone's throw from the shore. 
When it comes to exploring the region's waters, the ways to dive are endless and offer something for everyone under the sun: whether you prefer scuba diving or snorkeling, beach or boat dives, exploring wrecks or reefs, there are endless opportunities for you to explore..Greater Fort Lauderdale is a diver's paradise with the largest collection of warm-water wrecks in the Western world and perfect water temperatures year-round thanks to the Gulf Stream. Read on as we take a deeper dive into some of the most interesting local underwater attractions.
Wrecks, Reefs & More
Pompano Beach 
The SS Copenhagen 

Just 3.3 miles south of the Hillsboro Inlet lies the wreck of the 325-foot SS Copenhagen steamship. After running aground in only 25 feet of water in 1900, it remained visible for years until WWII naval pilots used it for target practice. Her wreckage is scattered over an area of 300 feet, at a depth of 16 to 31 feet, where it serves as a nursery for juvenile reef fish and other marine life. Now a state underwater museum and archeological site, the wreck is a must visit for divers and snorkelers alike.  
Mechan H2O and Lady Luck 

There are plenty of hidden treasures waiting to be discovered  in Shipwreck Park, an artificial reef featuring 16 wrecks, located one-and-a-half miles offshore from Pompano Beach. The park's well-known centerpiece, a 324-foot tanker called Lady Luck, now has one more major draw: a seven-foot, 500-pound steel robot scuba sculpture named "Mechan H2O'' that was recently submerged to adorn the vessel's stern. After spending a year at the Fisher Family Pier as part of the City's public art program, the sculpture can now be enjoyed 100 feet below sea at one of the most accessible dive sites in the nation.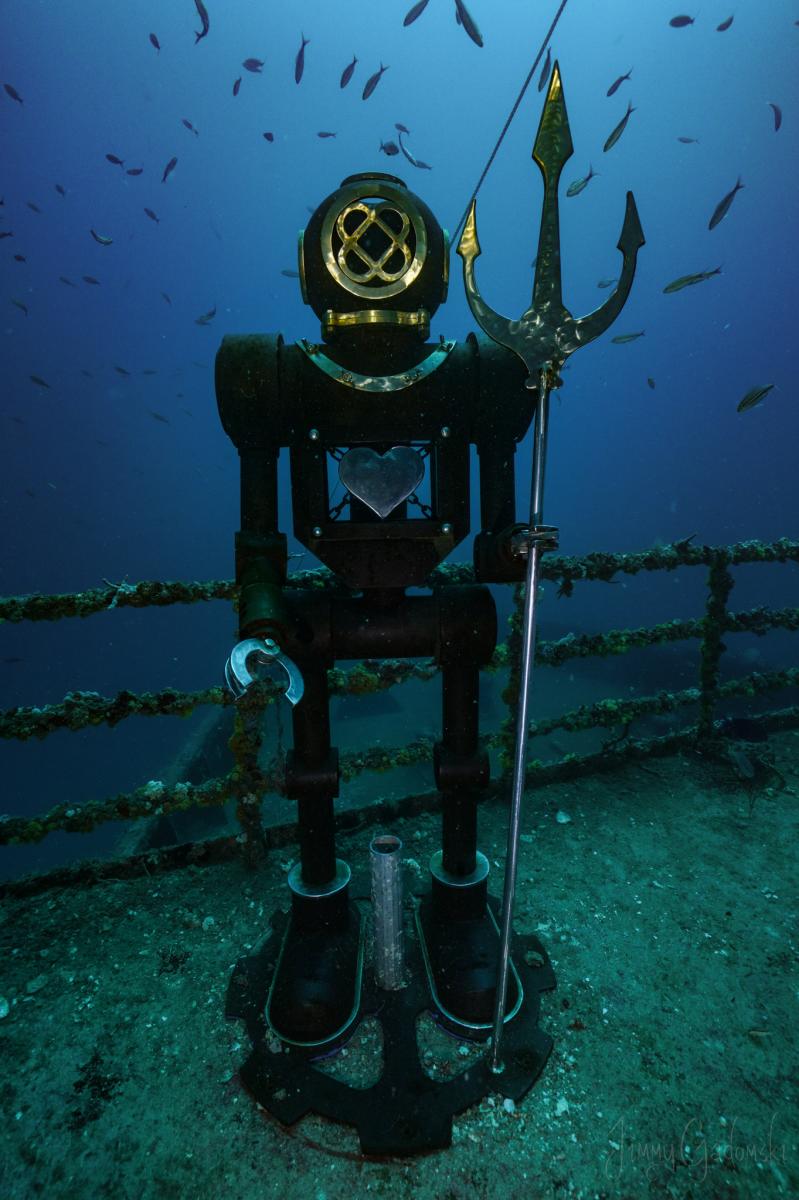 Fort Lauderdale Beach
Fort Lauderdale Wreck Trek - Fort Lauderdale
Maximize your dive on the Wreck Trek where, if currents cooperate, you can drift-dive three wrecks on a single tank. Located at a depth of 68-72 feet, the three vessels were sunk as artificial reefs and now host a world of colorful marine life. Start at the Jay Scutti tugboat and follow the rebar stakes north to the Tracy oil rig supply boat. From here, you can continue northeast to the Mercy Jesus and spot southern stingrays, barracuda and other underwater creatures that all call the Wreck Trek home.
Hillsboro Beach
Hillsboro Ledges

Head a mile-and-a-half north of the Hillsboro Inlet and discover a great shallow dive at Hillsboro Ledge. This beautiful reef system runs North-South and ranges in depth from 34 to 40 feet. Divers love its abundant tropical fish and sightings of nurse sharks.
Hallandale Beach
Tenneco Towers
In another lifetime, the Tenneco Towers were oil rig platforms operated by the Tenneco Oil Company in the Gulf of Mexico, but they have since been donated to Broward County and sunk off the shores of Hallandale Beach. As the largest of Greater Fort Lauderdale's 76 artificial reefs, the towers boast spectacular marine life including turtles, tunas and sharks. Advanced open water and deep diver specialists can explore all five of the rigs which range from 60-200 feet in depth.
Hollywood Beach
1000 Mermaids Artificial Reef Project 

Conceived by Ocean Rescue Alliance as a way to bring awareness to the problems that affect natural reefs, the 1000 Mermaids Artificial Reef Project is a giant underwater sculpture garden designed to enhance and expand marine habitats. Calling on mermaids as a symbol of human connection to the ocean, the artificial reef features larger than life sculptures that offer a captivating alternative to natural reefs. The eco-art project aims to restore Florida's living coral reefs while offering ocean adventurers a memorable dive experience.
Dania Beach
Hammerhead Reef
Spanning over 2 miles south from near Port Everglades to Dania Beach Fishing Pier, Hammerhead Reef is an underwater universe of ledges and crannies that lie 60-90 feet below the ocean's surface. As one of the deepest natural coral reef sites in South Florida, some areas climb up to 24' off the sand creating a breathtaking backdrop to an incredible array of marine life.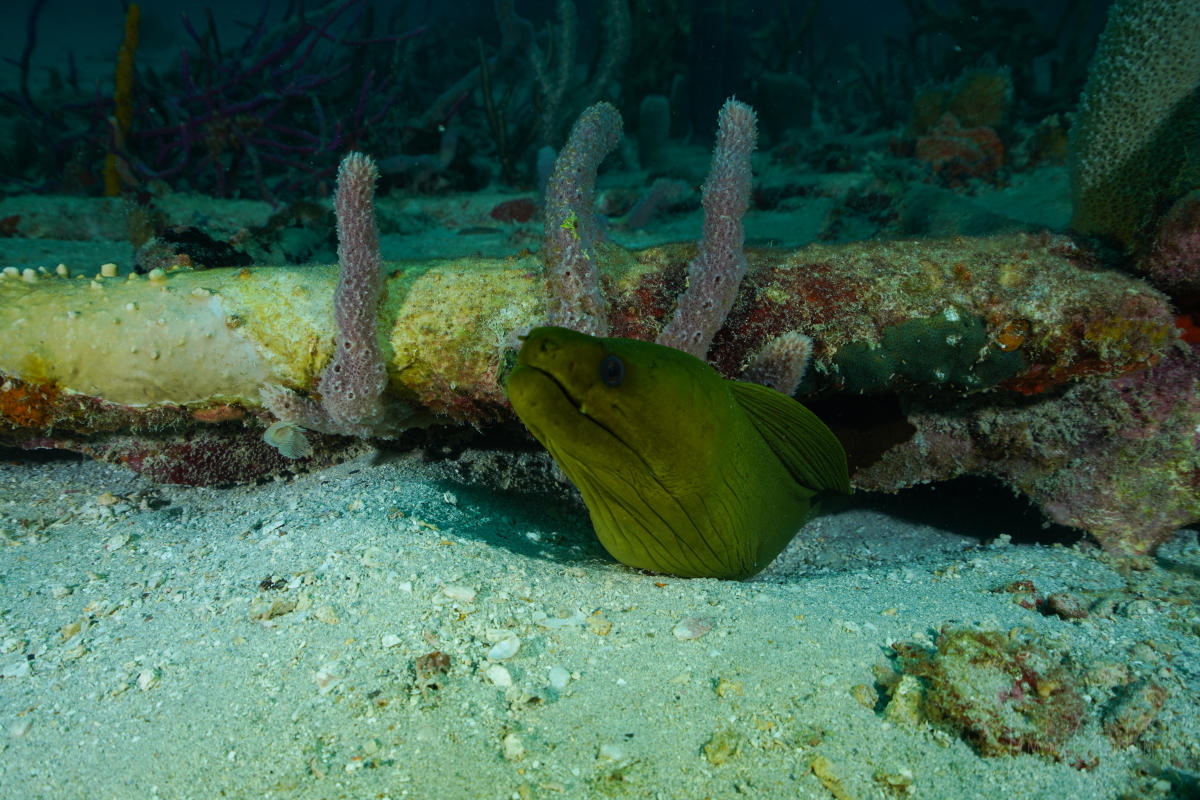 With so many fantastic dive expeditions to choose from, Greater Fort Lauderdale offers unforgettable experiences both on land and below sea. It's just one of the things that makes the region so unique and the reason so many visitors can't wait to visit our unforgettable beaches time and again.