The time has come to get back to boot-scootin' and boogying on the beach! Tortuga Musical Festival is returning April 8-10 to the shores of Fort Lauderdale Beach, with musical acts taking the stage between noon and 10 p.m. every day, all in the name of conservation. Every ticket sold to the three-day extravaganza benefits Rock the Ocean.
But wasn't Tortuga just a few months ago? Yes, the festival is traditionally hosted in April but postponed last year to November due to COVID-19, but this year the event is getting back on track with the original spring date.
The event is already sold out (thanks to its top-notch headliners). If you were one of those lucky enough to have scored tickets, here's what you can expect from the Tortuga Music Festival weekend. And when you're not jamming out to live music, enjoying tasty food truck treats, and exploring the Conservation Village, you'll want to check out the countless restaurants, bars, and attractions near Fort Lauderdale Beach and beyond.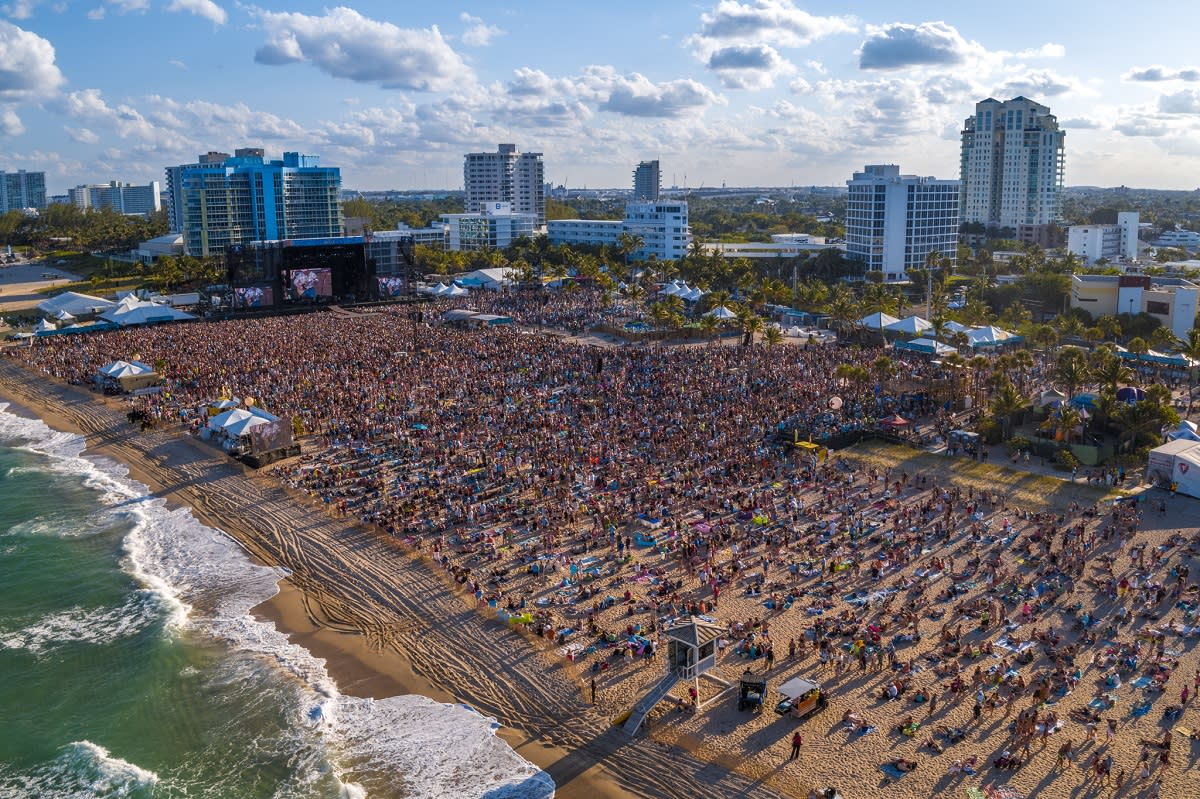 Who is Performing?
Tortuga is famous for bringing top country music acts to town, and this year won't disappoint. Festival headliners include Morgan Wallen, Thomas Rhett, and Luke Combs, respectively, with other big names such as Brothers Osborne, Walker Hayes, Lainey Wilson, rising star Brittany Spencer, and more.
As is tradition, country music isn't the only genre on the setlist—this year, Tortuga will also be sprinkling in tunes from rapper Nelly, reggae rockers Sublime with Rome, '90s sensation Sister Hazel, Southern rock trio The Cadillac Three, and others. In between sets, Dee Jay Silver and DJ Rock will be spinning tunes to keep the party going.
What's Parking Like?
Make a game plan beforehand for getting to the festival grounds located at 1100 Seabreeze Blvd. While the beach area has several parking lots, highlighted on the official Tortuga website, there won't be special event parking available on the beach, so you might be scouring the streets for a while if you want to rely on regular parking options. 
Since the affair draws a large crowd, it's best to carpool with friends and family via rideshare apps. Or catch a ride on the Water Taxi! Buy the special Tortuga Water Taxi 3-day ticket so you can arrive in style while also taking in the sights from the New River and Intracoastal Waterway. Service runs every 30 to 45 minutes between 11 a.m. and 11 p.m. between the beach and Stop 1 - Riverside Hotel and Stranahan House downtown; Stop 4 - Hilton Marina and the Greater Fort Lauderdale/Broward County Convention Center; and Stop 7 - GALLERYone DoubleTree Suites next to The Galleria at Fort Lauderdale. 
What Else is Going on at the Festival?
As if enjoying live music with the sand between your toes wasn't enough, the Tortuga Music Festival also features the Conservation Village, an entertainment area including a virtual shark dive, a pop-up show by surprise musical guests, a live auction, and more.
And it wouldn't be a festival without food, would it? There will be plenty of vendors on-site serving refreshing alcoholic beverages and delicious cuisine, including gluten-free options. While festivals aren't exactly known for being environmentally friendly, Tortuga hosts practice what they preach. Concert-goers won't find a plastic straw or water bottle on-site, and food vendors use paper/compostable food containers and utensils.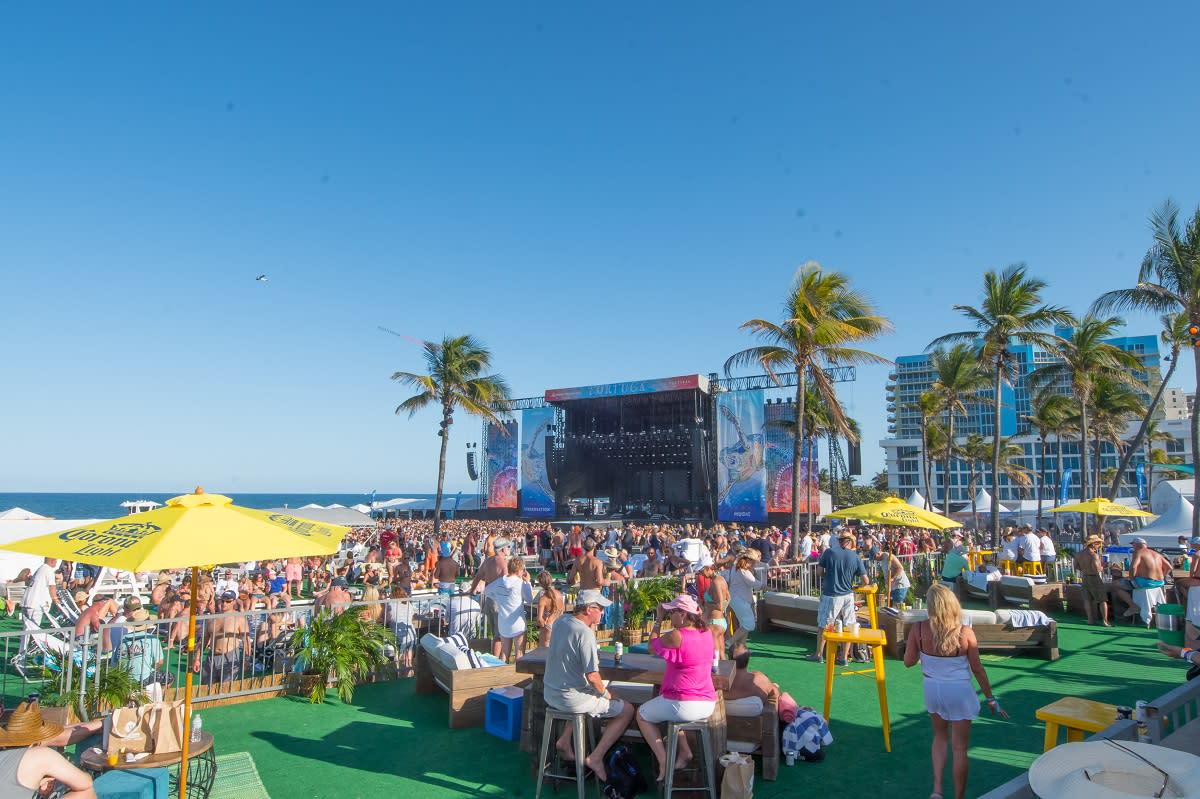 Who Benefits from the Festival?
Rock the Ocean has been the benefiting charity for the Tortuga Music Festival each year, making it fitting that the event takes place right on the sands of Fort Lauderdale Beach. The nonprofit works for turtle and shark conservation, protecting coral reefs, reversing overfishing, and more. Rock the Ocean has received more than $2 million in donations thanks to the festival, which has spread to more than 60 ocean conservation partners, five universities, and research globally.
What Else is There to do in the Area?
Whether you're waiting for your next favorite artist to come on stage (yes, festival-goers are free to come and go as long as they have their wristband), or you're looking to extend your trip and stay in the Greater Fort Lauderdale area, you won't run out of things to do.
On Fort Lauderdale Beach, there are plenty of waterfront restaurants and bars like Elbo Room, perfect for a cold brew and a good time. Make your way to downtown and experience the vibrant food and shopping scene on Las Olas Boulevard. Or find trendy nightlife spots at Flagler Village or Himmarshee Street lined with bars and clubs like Original Fat Cats or The Apothecary 330 inside Pizza Craft. 
Beyond Fort Lauderdale are more stunning beaches and vibrant neighborhoods waiting to explore. So, come for Tortuga Fest and stay for everything else.
Best Advice for Scoring 2023 Tickets?
The best advice is to start planning and booking now. Sign up to receive updates on the Tortuga website to be first in line when 2023 tickets go on sale. Jump on hotel reservations, too. Not only is this a wildly popular music festival – it's peak spring season on one of Florida's most popular beaches. 
Choose from one of the concert ticket-plus-hotel packages or consider reserving a room at your favorite hotel as soon as 2023 dates are announced. Remember to check for hotels near the Water Taxi stops and jump on the Tortuga Water Taxi festival tickets early so you don't have to worry about how you're getting to the festival.