Between the shimmering Atlantic Ocean, the always-bustling New River with its parade of boats and yachts, and winding canals and waterways, Greater Fort Lauderdale is a haven for waterfront dining. Choose these restaurants for delicious fare and an epic front-row seat to all the beauty.
Hotels with Oceanfront Restaurants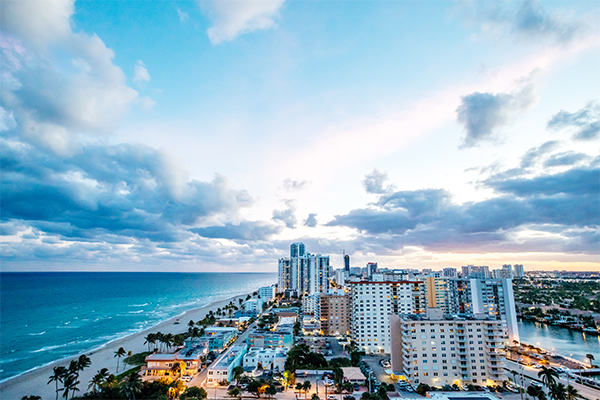 With numerous oceanfront hotels that are home to top-rated restaurants, you're sure to find elevated dining paired with killer views of the Atlantic Ocean. For a coastal-cool experience, head to Burlock Coast at the posh Ritz-Carlton Fort Lauderdale where you'll be treated to a seafood-driven menu and dishes made with a farm-to-table approach, and weekend brunch is meant for sipping mimosas and gazing at the turquoise water from the terrace.
For steak with a side of scenery, head to buzzy Steak954 at W Fort Lauderdale where the seaside patio offers the chance to dine on decadent Wagyu filet and truffle potato gratin while basking in the sun or sitting under the stars.
The W also houses El Vez, an oceanfront restaurant serving upscale Mexican fare with Baja-style cooking—it's the perfect spot to imbibe in margaritas and nosh on fish tacos for that "I'm-on-vacation" feeling.
More Mexican cuisine and beachfront vibes can be found at laidback Lona Cocina Tequileria at The Westin Fort Lauderdale Beach Resort, where you'll relish in fresh ceviche, crab-infused guacamole, unique tacos, meats from the grill and cocktails made for tequila worshippers.
At the stunning Fort Lauderdale Marriott Harbor Beach Resort & Spa, nestled along a quarter-mile stretch of private beach, swanky 3030 Ocean is known for serving up stunning ocean views along with small and large plates of fresh seafood meant for sharing.
The Atlantic Hotel & Spa boasts new waterfront restaurant Wild Thyme Oceanside Eatery where dishes have an unexpected twist, like bacon that hangs from a line over jalapeno cornbread, or cream of corn crowned with popcorn.
Tucked away in the Sonesta Fort Lauderdale Beach, the new tropical Steelpan restaurant offers the chance to instantly sink into island time thanks to cool ocean breezes, Caribbean-American fusion dishes and bright cocktails.
At the Hilton Fort Lauderdale Beach Resort located on North Beach, signature restaurant Ilios has bragging rights to breathtaking views of the Atlantic along with elevated dishes like steak frites, stuffed chicken breast and an array of eclectic small plates.
For real-deal southern Italian food, cozy up at a table at Casa Calabria, located inside Ocean Manor Beach Resort on the Galt Ocean Mile, a family-owned restaurant where you'll dine on the owner's cherished family recipes. While the indoor dining room feels like a home, grab a seat on the breezy terrace or in front of the huge windows that reveal the ocean and the hotel pool.
Further north in Pompano, new restaurant AND Fish Kitchen + Bar at the Fort Lauderdale Marriott Pompano Beach Resort & Spa offers oceanfront views and a diverse menu centered around fresh-caught seafood like pecan-crusted corvina or roasted Scottish salmon and tropical dessert options like Florida key lime pie.
Dine on the Beach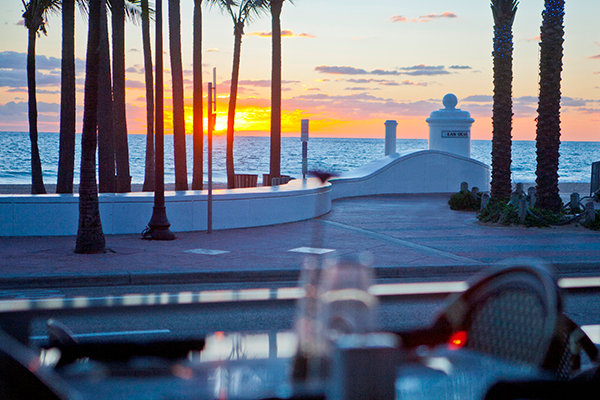 Fort Lauderdale Beach is lined with waterfront restaurants that offer scenic views of the Atlantic Ocean and of the bustling boardwalk. Stroll down Fort Lauderdale Beach Boulevard to find lively spots like Spazio Italian Restaurant and Wine Lounge, where live music is always flowing and you can dine alfresco for breakfast, lunch and dinner. Highlights include flatbreads, pastas, as well as specialty meat and fish dishes.
Another festive place is the oceanfront patio of Cafe Ibiza where live music will draw you in, and the menu features hearty salads, fresh seafood and homemade pastas.
Also nearby is Bubba Gump Shrimp Co. where you can tuck under red and blue umbrellas facing the sea to order shrimp prepared any way you can imagine (fried, barbequed, dashed with coconut), all while watching the action of Fort Lauderdale Beach.
At the two-story Bo's Beach expect a beachside party that lasts all day into the evening, and bird's-eye views of the ocean that can't be beat. Think fresh seafood, a signature wood-fired oven that churns out pizzas and wood-fired oysters, and refreshing cocktails meant for toasting to those epic views.
Intracoastal Beauty
Fort Lauderdale's Intracoastal Waterway is lined with wow-worthy mansions and waterfront dining. Grab a seat at popular 15th St. Fisheries to watch the yachts cruise by, while dining on fish dip, fresh mahi sandwiches and coconut shrimp.
Don't miss the unique chance to feed the monstrous tarpon that flock to the marina. For a fancy night out, escape to Mastro's Ocean Club, a luxe waterfront restaurant situated on the Intracoastal Waterway with unbeatable views and yacht docking for those arriving by boat. The upscale restaurant impresses with an oversized seafood tower, lobster mashed potatoes, locally caught fish dishes and numerous cuts of meat, with steaks arriving on a 450-degree plate.
You can also experience breathtaking views of the Intracoastal from Vue on the Water at the GALLERYone DoubleTree by Hilton, where you'll choose from pastas like shrimp penne or Bolognese, stuffed chicken breasts or steak frites; arrive by water taxi if you're not staying at the hotel.
In Pompano Beach, you'll find Sunset Catch, a restaurant perched above the Marina at Sands Harbor that serves up fresh seafood and Italian specialties along with views of the Intracoastal Waterway — you can also expect live entertainment on certain nights. 
The New River and Canals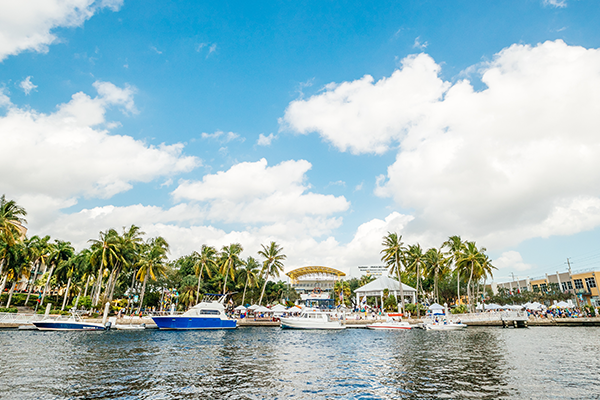 Fort Lauderdale's New River is just as scenic, and it's all about the "boat life" at Boathouse at The Riverside. At this waterfront restaurant, you'll want to snag a seat outside to watch the yachts cruise by; or if you have a boat, simply dock it and dine. You'll find cuisine with a Mediterranean twist like boards lined with exotic cheeses and meats, hot and cold tapas such as smoked eggplant dip and Moroccan-spiced meatballs.
Newcomer Casa Sensei, which sits on charming Las Olas Boulevard and overlooks the Himmarshee Canal, offers a massive and eclectic menu of Pan-Asian and Latin American dishes from dim sum to sushi and noodle dishes. Guests can even opt for a private dinner cruise on one of the gondolas that sit outside.
Also on Las Olas and tucked away on a canal, longtime Italian restaurant Luigi's Tuscan Grill is the place to spoil yourself with homemade pasta, hearty steaks, a tender veal chop or fresh local seafood. Once again, it's all about those covet-worthy views.
Don't miss all the great dining deals during Greater Fort Lauderdale's Restaurant Month happening throughout August and September. Check out the full list of participating restaurants.