Considered Florida's gay capital, Greater Fort Lauderdale welcomes more than a million Lesbian, Gay, Bisexual, and Transgender (LGBT+) visitors a year. Gay-friendly and gay-owned businesses line Fort Lauderdale and Wilton Manors' pedestrian main streets, so you'll find everything from drag brunches to luxe gay guesthouses. LGBT+ events like film festivals and concerts take place throughout the year, but the festivities kick up a notch during Pride Month in June.
From museum exhibits and parades to street festivals and flotillas, here are some of the best ways to celebrate Pride Month in Greater Fort Lauderdale.
Pride Events

All month long, you can join in on the Pride Month festivities.
As the official kick-off to the Stonewall Pride, the I AM WHAT I AM: A Tribute to South Florida's Drag Pioneers exhibit at Galleria Fort Lauderdale starts June 1. The month-long event, hosted by History Fort Lauderdale, pays tribute to South Florida's drag pioneers with performances by the likes of Joanna James and Velvet Lenore. For those who can't make it out on June 1, stop by anytime throughout the month until June 30 to admire the photo "wall of fame" displaying local drag performers. 
Join the flotilla (either with your own boat or by booking a ticket on a charter) departing from Esplanade Park in downtown Fort Lauderdale on June 11 during the third-annual FLoatarama. Cruise along New River and up the Intracoastal before ending at the waterfront Sailor's Dance & Pool Party at the Residence Inn Fort Lauderdale Intracoastal/IL Lugano. 
As a way to commemorate the Stonewall Riots and the start of the LGBT+ human rights movement that has shaped the community, the city puts on the annual Stonewall Pride Parade and Street Festival. Taking place this year on June 18, the festival will feature six stages and 16 bars for all-day entertainment — the highlight being the 7 p.m. parade.
On June 25, the Museum of Discovery and Science will host the fourth-annual Family Pride Celebration with exhibits, shows, and educational activities like T-shirt tie-dying, make-and-take Pride flags, and storytime with a drag queen. 
In February 2023, Fort Lauderdale Beach Park will host a large-scale, two-day event called Pride of the Americas presented by Visit Lauderdale. Expect several stages, a major artist performance, and more than 125 vendors.
Local LGBT+ Shops & Landmarks
Events are a great way to celebrate Pride Month, but there are other ways to support the LGBT+ community on both a local and national level, including a visit to an Out of the Closet thrift store with locations in Wilton Manors and Fort Lauderdale, which were started to help fund AIDS Healthcare Foundation's services (and still donate 96 cents of each dollar spent). 
Home to one of the nation's top-rated gay beaches, Sebastian Street Beach, Fort Lauderdale is also home to culturally significant spots like one of the largest gay libraries and archives in the country, the Stonewall National Museum & Archives. The World AIDS Museum, the first museum devoted to the epidemic, can be found in Wilton Manors.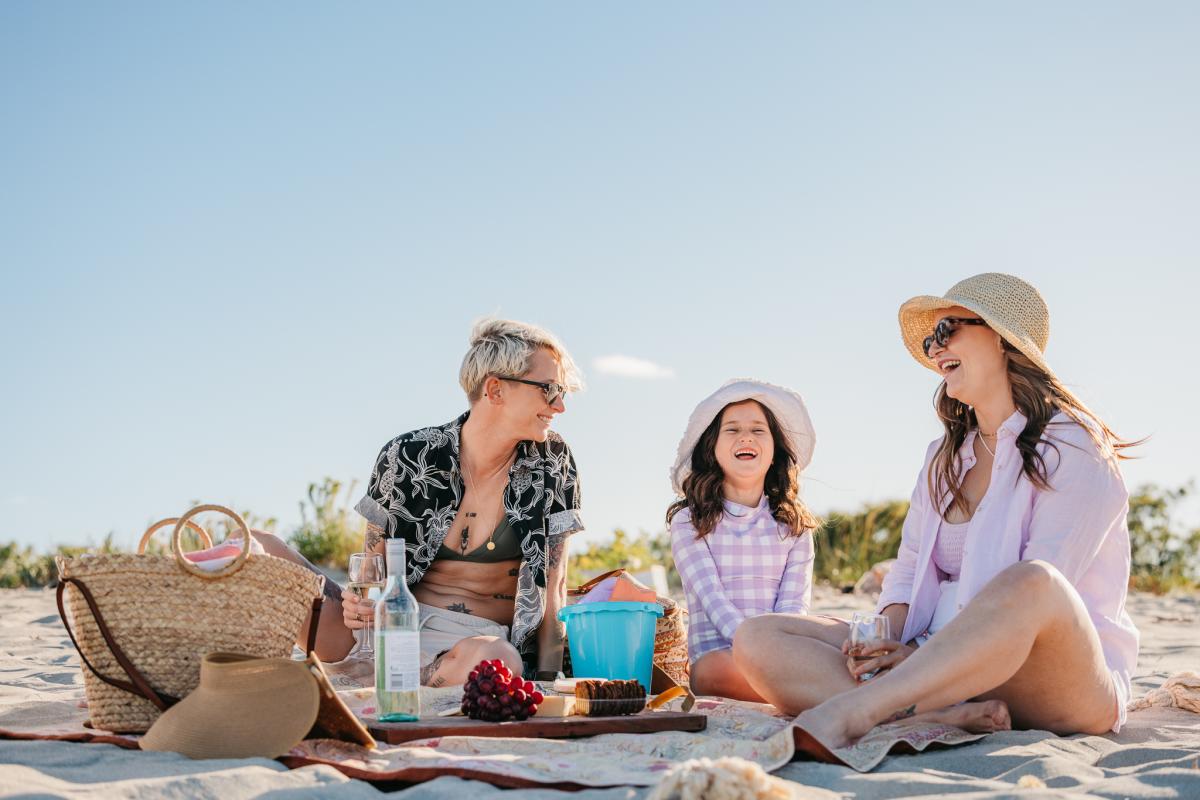 LGBT+-Friendly Dining Spots & Lodging
Wilton Manors is dotted with shops, restaurants, and bars donning rainbow flags. Dine with divas at drag-themed burger joint Hamburger Mary's, where events include charity bingo and tipsy Thursdays with DJs and drink specials. The patio at LGBT+-friendly Rosie's Bar & Grill is a local favorite for Sunday Funday brunch and tropical cocktails (think watermelon basil martinis and strawberry grapefruit vodka-ritas), while bars like Georgie's Alibi Monkey Bar, one of South Florida's longest-running gay restaurants, bars, and nightclubs, is a top pick if you're after a night on the town. 
Visitors can also go for a main course of drag at dinner theater LIPS in Fort Lauderdale, where performances take on themes like "Taboo" (the Sunday all-inclusive afternoon brunch is also a don't-miss).
When you're ready to rest your feet, check into the Pineapple Point gay men's guesthouse in Fort Lauderdale, where you can also book day passes to enjoy the sun decks, Jacuzzis, and clothing-optional pool areas, or stay at the all-male The Grand Resort and Spa (considered the city's only gay resort) on Fort Lauderdale Beach.