When headed to the "Venice of America," don't miss out on the incredible 300-mile network of inland waterways in Greater Fort Lauderdale. The best way to experience it? Hop on the iconic Fort Lauderdale Water Taxi. These distinctive yellow boats are not only a stress-free way to explore the city, but they've also become a symbol of Fort Lauderdale. 
Boasting 11 stops at some of the coolest hangouts around town, the hop-on, hop-off taxis have serviced locals and visitors for 30 years. With endless routes from Fort Lauderdale to Hollywood, you can guarantee a safe and smart way to get around while in the hands of some pretty cool crew. Read along for Visit Lauderdale's definitive guide to the Fort Lauderdale Water Taxi so you can cruise in style during your next visit. 
How It Works 

First, secure your tickets by pre-purchasing your all-day or multi-day tickets online or buying them at the dock. Prioritized boarding is given to guests with tickets or ticket vouchers, followed by those who need to buy a ticket. The all-day pass costs $35 for adults, $30 for seniors and veterans, and $15 for children aged 5-11. You can also opt for evening voyages or take advantage of group rates. 
The Water Taxis operate all week, from 10 a.m. to 10 p.m., with departures every 35 to 45 minutes—excluding Christmas Day and during the Seminole Hard Rock Winterfest Boat Parade, also in December.
Pro tip: Find ample parking near stop #1 at the Riverside Hotel parking garage in downtown Fort Lauderdale.
Water Taxi Routes

A circuit around Fort Lauderdale and back to your initial pickup spot typically lasts about three hours, with plenty of sights to take in, such as "Millionaire's Row" and some of Fort Lauderdale's famous parks and local attractions. While you can enjoy the non-stop boat ride, we suggest making the most of the 11 stops by trying the hop-on, hop-off approach. If at any point you're curious when the next taxi is arriving, check out the live tracker online
Around Town Hotspots

Numerous popular Greater Fort Lauderdale attractions, including restaurants, can be found along the Water Taxi stops. Begin your journey at stop #1 featuring the Historic Stranahan House Museum, a Broward treasure built in 1901. After a museum tour, grab a delicious meal at one of the bustling Las Olas restaurants nearby. 
Stop #3 is located at 15th Street Fisheries, a local seafood restaurant right on the Intracoastal Waterway. Savor fresh seafood while taking in passing boats; their top deck offers a fantastic dining view. At stop #4, you can fully embrace the "No Shoes, No Shirt, No Problem," vibe while enjoying food and drinks at the 5 O'clock Somewhere Bar & Grill within the Margaritaville Hollywood Beach Resort. You can reach this destination via the Water Taxi's express Hollywood route. 
In addition to these, you'll also find plenty more restaurants and attractions, including Fort Lauderdale beach and The Galleria at Fort Lauderdale.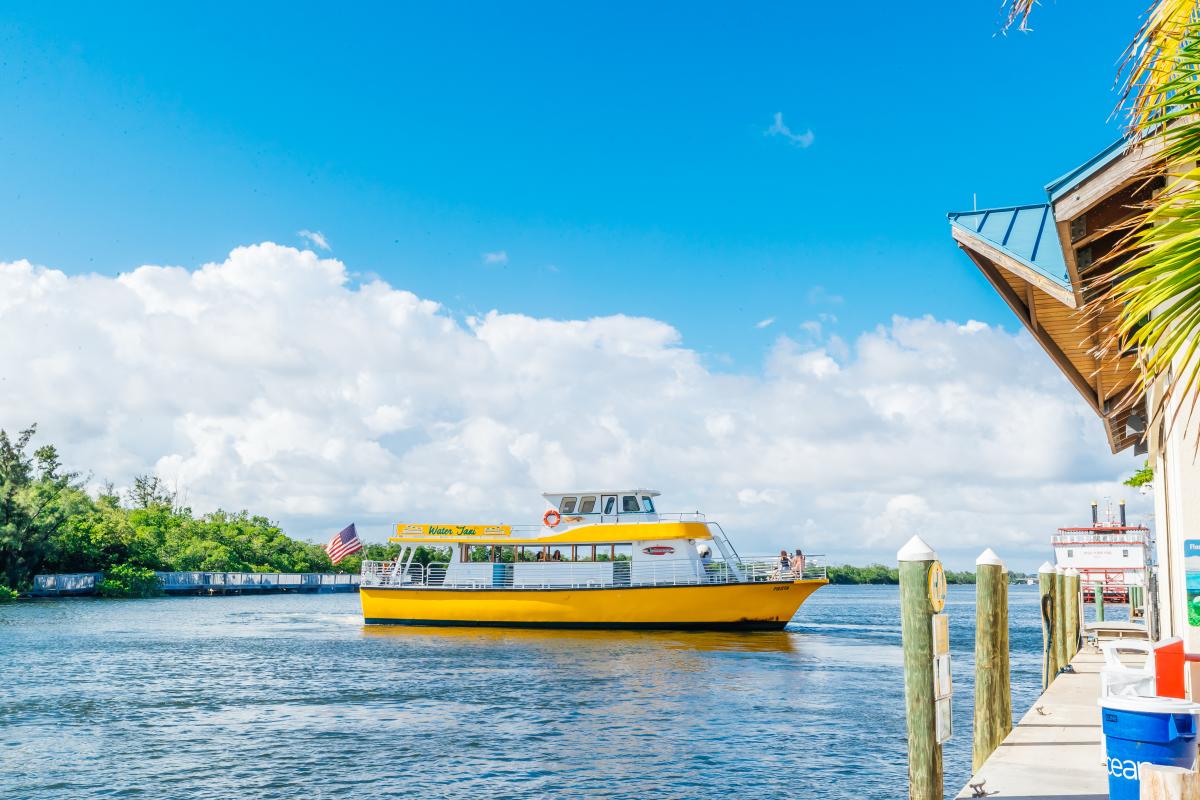 Check out this link for discounts on attractions and dining options for Water Taxi patrons, including top restaurants, culinary tours, and more, available upon presenting your Water Taxi ticket.
Fort Lauderdale Water Taxi Events  

If you plan on attending the Fort Lauderdale International Boat Show (this year's event is scheduled for October 25-29), opt to get to and from the show on the Water Taxi. The boat show features seven locations and six miles of floating docks. Lucky for you, the Water Taxi covers a lot of ground (or in this case water) and is one of the best ways to bypass the congestion and crowds that fill the area during this time of year.
Don't miss out on the Water Taxi's special year-round events, like Taxi Tunes every Friday, a three-hour cruise featuring live music, drinks, and stunning views of Fort Lauderdale. Starting December 1, you can enjoy the annual Holiday Lights Cruise. This festive event offers guests the best view of the "Millionaires Row" waterfront mansions adorned with dazzling lights and decorations. Live music and festive cocktails round out the holiday special. 
On your next visit to Greater Fort Lauderdale, cruise in style and book your Water Taxi adventure today.