May is here, which means it's time to start planning your Cinco de Mayo celebration. This vibrant holiday falls on a Friday (May 5), so prepare for festivities to be in full swing in Greater Fort Lauderdale. Whether you're in the mood for traditional cantina cuisine or on the hunt for the best margarita, we've compiled the ultimate guide to help you sip and savor this Cinco de Mayo in Greater Fort Lauderdale.
In Fort Lauderdale
Rocco's Tacos and Tequila Bar
Come and join the festivities at Rocco's Tacos and Tequila Bar, a popular Mexican eatery on Las Olas Boulevard, where you can guarantee the party will last well into the night. To honor the holiday, Rocco's is hosting a Cinco de Mayo block party, where locals and visitors can enjoy some of Rocco's best bites paired with tasty margaritas. Be sure to try the Rocco Rita, made with Teremana Blanco, orange liqueur, and house-made sour mix. 
El Camino

Farther west on Las Olas Boulevard, you'll find another Mexican haven, El Camino,. This Cinco de Mayo, El Camino will host a fiesta full of fun for everyone under the sun. Imbibe on some of the tastiest margaritas in Fort Lauderdale, including the Spicy Avocado, made with super fresh and ripe avocado.
Canyon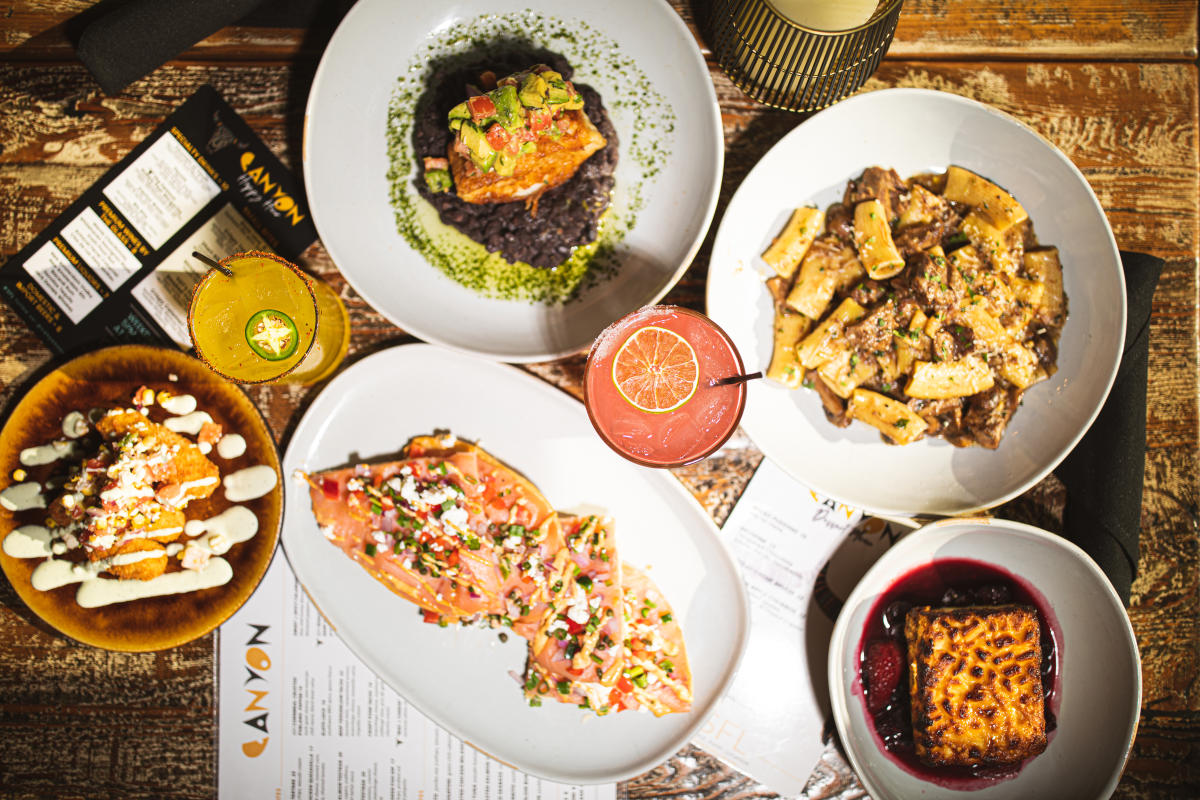 If you're looking for a more refined Cinco de Mayo experience (think: eclectic dishes and a tequila den dubbed Rio's Tequila Bar), be sure to check out Canyon. 
Newly revamped in downtown Fort Lauderdale, this 27-year-old dining institution has become a favorite for its smoked salmon tostadas, cornmeal-crusted poblano peppers, and its crown jewel: the prickly pear margarita. This margarita is so beloved it's even won awards! Sip this smooth concoction while toasting with friends and loved ones.
Bar Rita

Get your margarita vibes on at downtown's Bar Rita. A colorful backdrop of funky murals plus upbeat music sets the scene at this Mexican hotspot. Whether sitting on the rooftop or chilling on the patio, this is a tequila lover's paradise. Bring your friends and family to enjoy premium tequilas and mezcal. This Cinco de Mayo, be adventurous and order the Pineapple Express (caramelized pineapple, Hornitos reposado, Desolas Blanco, and CBD ginger soda). 
Bodega Taqueria y Tequila

Another downtown favorite, Bodega Taqueria y Tequila will celebrate Cinco de Mayo with drink specials from Cazadores and Patron, plus performances by Zhantra Entertainment beginning at 11 p.m.  
The Wharf Fort Lauderdale
The Wharf Fort Lauderdale on the Riverwalk has become a South Florida staple for exciting happenings. Known for its weekly themed events, its Cinco de Mayo "Sombreros on the River" fiesta promises energetic musical performances from Mariachi bands, free sombreros, and an appearance by luchadores (Mexican wrestlers)! Enjoy all-day drink specials, featuring a free Corona or Modelo with the purchase of a shot of Casa Noble Tequila. 
Margarita Festival 
For the ultimate fiesta, see and be seen at this year's Margarita Festival presented by The Restaurant People. The Cinco de Mayo event, held in the courtyard of YOLO on Las Olas, brings together tequila aficionados and margarita lovers with samplings of unlimited margaritas and tequila from vendors, including Patron El Cielo, Casamigos, Tequila 512, Patron, Ilegal Mezcal, and so many more. 
The Greater Fort Lauderdale event is expected to sell out, so purchase your tickets now. General admission ($35) includes unlimited margs from 6 p.m. to 8:30 p.m., while VIP ($75) offers early entrance at 5:30 p.m. plus VIP access to premium tequila samples and tasty cuisine. Salud! 
Fort Lauderdale Beach 

On Fort Lauderdale Beach, visitors can choose from popular beachfront haunts: Lona Cocina Tequileria at The Westin Fort Lauderdale Beach Resort and El Vez, located inside the W Fort Lauderdale. 
This Cinco de Mayo, join Lona as it welcomes a live mariachi band followed by a DJ. Guests can also snap pics at a 360-degree photo booth and enjoy a specialty Espolon Margarita. just for the occasion. 
At El Vez, you can't go wrong with the Frida margarita (Corazón Blanco, lime, agave, orange, and cranberry), available by the glass or as a pitcher if you're traveling with a group. 
For something even more over the top, head to LuLu's Bait Shack and order a fishbowl-size margarita that's ideal for sharing with larger groups. 
Tacocraft Taqueria & Tequila Bar - Multiple Locations

Boasting locations in downtown Fort Lauderdale, Lauderdale-by-the-Sea, and Plantation, Tacocraft Taqueria & Tequila Bar will host all-day Cinco de Mayo fiestas across its different outposts. Stick around after dark at the Fort Lauderdale  locale for the Third Annual Block Party, beginning at 5 p.m., featuring live Mariachi, bands, and DJs, plus several bars offering Tacocraft's famed handcrafted margaritas and cocktails. 
Tulio's Tacos and Tequila Bar, Wilton Manors
If you plan to head  to Wilton Manors, make a reservation at Tulio's Tacos and Tequila Bar. We love this neighborhood for its vibrant and inclusive party scene that'll be even more of a vibe on Cinco de Mayo. Tulio's, known for its delish Mexican cuisine and craft cocktails,  will serve  $10 house margaritas all day while a live Mariachi band serenades guests. 
Baresco, Pompano Beach
Stop in at the newly opened Baresco in Pompano Beach hosting a Cinco de Mayo celebration with drink specials, piñata raffles, and live Mariachi music!  This Mexican-inspired taqueria and bar has become a hit with its signature menu items and handcrafted cocktails. Enjoy sipping the Trader Village — a unique twist on the traditional margarita — featuring Blanco tequila, egg yolk gel, avocado pit orgeat, ancho reyes, and lime.