"Venice of America" is more than a humble-brag on Fort Lauderdale's official city seal. It is this destination's world-famous sobriquet, a nickname based on the 300 miles of inland waterways that run through Greater Fort Lauderdale, with about 165 of those miles in the city of Fort Lauderdale itself.
When locals and visitors call this tropical destination the Venice of America, it's because these winding ribbons of waterways aren't just for show. The extra bragging rights come from how Greater Fort Lauderdale makes good use of them, cultivating a water-lover's lifestyle that you can enjoy year-round under the warm Florida sunshine.
Whether you are a fishing enthusiast or a foodie, a paddleboarder or a party-boater, you'll find a multitude of ways to stay, play and dine on the waterways in Greater Fort Lauderdale.
Water Taxis Are No Ordinary Ride
Fort Lauderdale Water Taxi and Pompano Beach Water Taxi are designed to take you from hotel to museum, theater to drinks, beach to dinner, lunch to shopping — basically whatever way you want to enjoy your day around the beach and waterways, the Water Taxi is your scenic ride.
The Fort Lauderdale Water Taxi is an attraction all its own, where the crew provides a narrated tour of the area — including the scoop on the mansions on Millionaire's Row — as well as beer, cocktails and sodas below deck.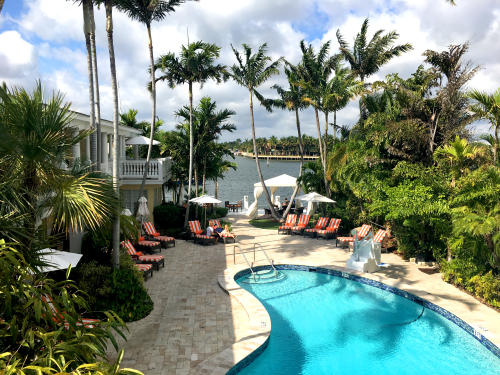 There are several upscale hotels walking distance to the Fort Lauderdale Water Taxi, including The Pillars, a world-class boutique hotel that sits directly on the Intracoastal Waterway. This body of water is actually a thoroughfare, like A1A or US 1. In fact, a person could sail all the way to Virginia on the Intracoastal Waterway, but you're more likely to remember it for the serene sunset views.
Other sensational hotels near the Water Taxi include The Ritz-Carlton, Fort Lauderdale; W Fort Lauderdale; and The Westin Fort Lauderdale Beach Resort. Disembark at The Galleria for fashion and dining, including Neiman Marcus, Michael Kors, Vans and Sephora, as well as The Capital Grille, Seasons 52, Blue Martini and more.
The Express Route goes as far south as Hollywood, where the vibe is laid back and everyone feels like an old friend at Margaritaville Hollywood Beach Resort. And on the New River Route, the historic Riverside Hotel offers Old Florida elegance amid the shopping, galleries and dining of tree-lined Las Olas Boulevard.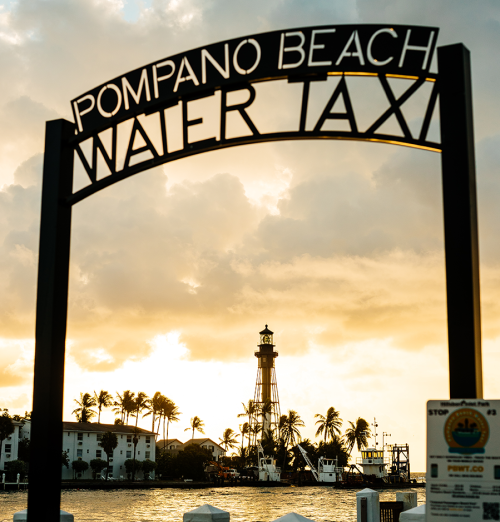 The Pompano Beach Water Taxi is the best way to get to Hillsboro Inlet Park, providing excellent views of the historic Hillsboro Lighthouse. Among the Water Taxi's 12 stops, you'll find great places to dine on the water. Have a meal on an island at Cap's Place, a former 1920s speakeasy. Try the Conch Fritters, Short Rib Tacos, weekend brunch and other delights right on the water at Nauti Dawg Café, a dock-and-dine restaurant tucked away in Lighthouse Point Marina. And you don't have to miss a game while you're on vacation when you're at Bokampers Sports Bar, another dock-and-dine spot where you'll enjoy the food, the televisions and the waterside seating.
Ride a Gondola in the Venice of America 
Yes, those are authentic Venetian gondolas gliding along the New River in Fort Lauderdale. Professional gondoliers in striped shirts set the ambiance, and each gondola is the picture of elegance from the ferro to the risso — those unique, curvy metal pieces on the bow and stern of a gondola.
Las Olas Gondola offers 75-minute tours and a unique perspective of the luxurious homes and tropical greenery along the canals at a cozy speed that makes it easy to soak it all in. This is the perfect romantic ride for two, unique outing with the kids, and cool experience for all ages.
Kayaking and Paddleboarding in the Local State Parks
If you dream of gliding along the waterways at your own pace, gazing at the blue sky and green flora, and listening to the rippling water as your oar slices through it, then you're in the right paragraph. Discover two amazing area parks that provide natural kayaking and paddleboarding escapes within Broward County.
Hugh Taylor Birch State Park is located in Fort Lauderdale between the Intracoastal Waterway and A1A. This park is great for biking, hiking, fishing, camping and other nature activities. It even has art classes. But you came for the paddling!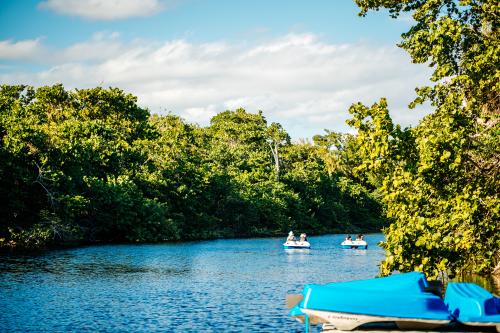 At Park and Ocean, the park's concession area, they can outfit you with beach chairs, bicycles, jet skis, kayaks, stand-up paddleboards, and more. Request your kayak or SUP — map and safety vest included — and paddle through lush mangrove trails and into the calm waters of Hugh Taylor Birch State Park's coastal dune lakes. You can also fuel up for the adventure at Park and Ocean, offering tasty eats, craft brews and waterside tables.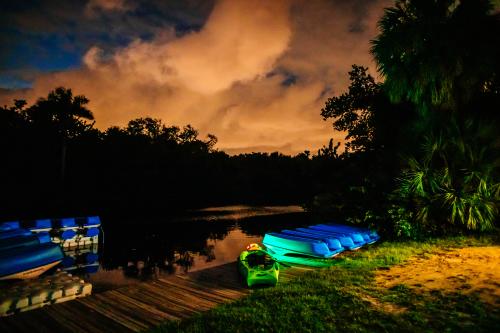 If you're here during a full moon, plan a nighttime adventure during the Monthly Full Moon Kayak Tour at Hugh Taylor Birch State Park. You'll be guided on a 45-minute paddle by the light of glow sticks and the yellow moon.
A little farther south, Dr. Von D. Mizell-Eula Johnson State Park in Dania Beach is another oasis within this metropolis. This beachfront haven has swimming, fishing, boating, hiking, birdwatching, shore diving, as well as kayaking and paddleboarding along the two-mile stretch of mangrove-lined waterway known as Whiskey Creek. This creek was aptly named because of the bootleggers who used to hide out in it to avoid the law during the Prohibition Era. There's also evidence that the ancient Tequesta Indians used the creek as well.
Whiskey Creek Hideout is the park's concessions stand with a full menu of deliciousness as well as adventure. There's the Chipotle Black Bean Burger, Avocado Salad with Salmon, morning breakfast, as well as a kids menu and plenty of comfort food.
Work up an appetite for mealtime on the guided kayak Eco-Tour, launching every Monday-Friday at 10 am. You'll also love the Friday paddleboard Sunset Tours and monthly Full Moon Kayak Tours, as well as the post-adventure campfire and S'mores feast.
Mark Your Calendars for Must-Go Boat Events
With this array of water-centric events, everyone's invited to enjoy the boating lifestyle in Broward County. And for some of them, you don't even have to leave land.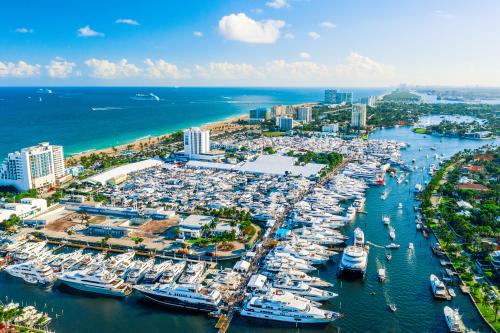 The Fort Lauderdale International Boat Show features more than 100,000 visitors, six miles of docks, more than 1,500 boats and well over 1,000 exhibitors every fall. Back for its 62nd year in 2021, FLIBS is filled with floating eye candy. The Superyacht Village enclave shows off spectacular vessels up to 400 feet. Even if you don't know your aft from your starboard and don't know how to tie a bowline, you will still enjoy this slice of the salt life as well as the upscale, 100-vendor Culinary Experience, Hospitality Lounge, informative seminars and an appearance by world-renowned artist, scientist, diver, conservationist and fashion brand creator Guy Harvey. Spend an afternoon or several days at the boat show and you'll see why Fort Lauderdale is also known as the Yachting Capital of the World. By the way, the best way to attend the boat show is to relax and let Water Taxi do the driving.
Every year, the Seminole Hard Rock Winterfest Boat Parade kicks off the holiday season with the "Greatest Show on H2O." You'll see private boats, giant showboats and corporate mega-yachts adorned with thousands of lights, as well as music, performers and decorations. There are plenty of spots to watch the spectacle along the 12-mile parade route from the New River to the Intracoastal Waterway up to Lake Santa Barbara in Pompano Beach.
Art Fort Lauderdale is a refreshing way for art-lovers to acquire their latest masterpiece. This unique, four-day curated art fair transports attendees via Water Taxi to vacant luxury waterfront properties that are the temporary home for featured artists and galleries exhibiting a variety of paintings, sculptures and other works.
Whatever your style, whatever your mood, you'll find an array of ways to enjoy the New River, Intracoastal Waterway, Whiskey Creek and other waterways in the Greater Fort Lauderdale area. Where will your journey take you?
Explore Greater Fort Lauderdale's Beaches