We may not be able to visit our favorite Greater Fort Lauderdale restaurants right now, but that doesn't mean we can't indulge in our favorite dishes. With so much uncertainty in the world, it's nice to be able to enjoy a familiar, comforting meal. Pick your destination—from Italy to Mexico—and take a trip straight from your own home with these delicious recipes from local restaurants around Fort Lauderdale. Now is the time to sharpen your cooking skills and have some fun in the kitchen. Bon Appétit!
It's your turn to make one of Chef Steve Martorano's favorite dishes at home. This uncomplicated and very tasty recipe is also one of Jimmy Kimmel's beloved meals.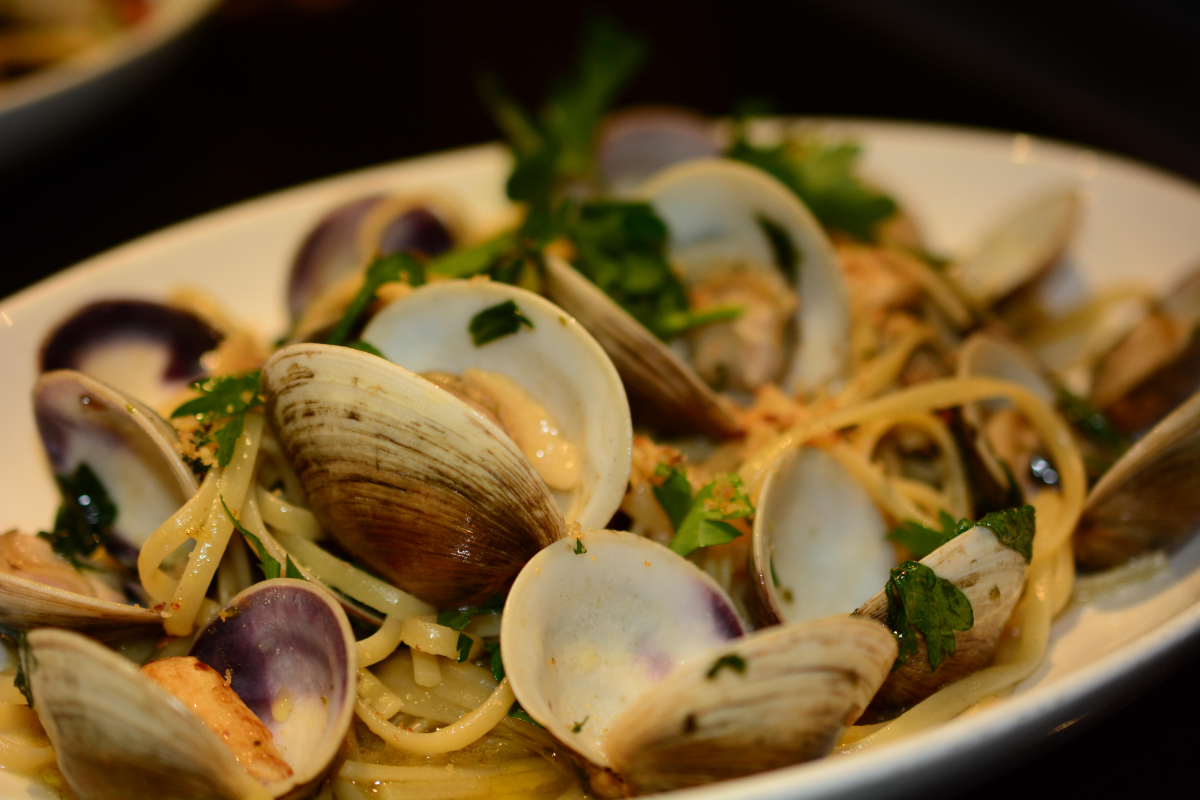 ITALY
Linguine and Clams
25 little neck clams, washed under water
1/4 cup or 4 tbsp. extra-virgin olive oil
4 large garlic cloves, smashed
1 pinch Tutto Calabria red pepper flakes
1 pinch Tutto Calabria oregano
2 tsp. coarse Italian parsley
1/4 cup dry white Santa Margherita pinot grigio wine
5 ounces Gentile linguine
Preparation:
1. In a medium-sized sauté pan, heat oil with the smashed garlic and red pepper flakes. Cook ingredients until the garlic is golden brown in color, but not burnt.
2. Remove the pan from the heat and add in the 25 little neck clams. Add in the Santa Margherita wine and cover the pan. It will begin to bubble.
3. Add the coarse chopped parsley and oregano.
4. Put on medium heat and in 5-6 minutes, shake the pan with the lid on. At this point, the shell of the clam should open. If not, disregard the clams with unopened shells.
5. Meanwhile, in salted boiling water cook the linguine until al dente (firm), remove from the water and toss linguine in with the little neck clams and natural clam sauce.
6. Plate into a bowl and garnish with a touch of extra-virgin olive oil, red pepper flakes, and fresh parsley.
As a Fort Lauderdale signature Italian restaurant, Casa D'Angelo's celebrated chef Angelo Elia has created this simple yet flavorful dish that you can now recreate at home.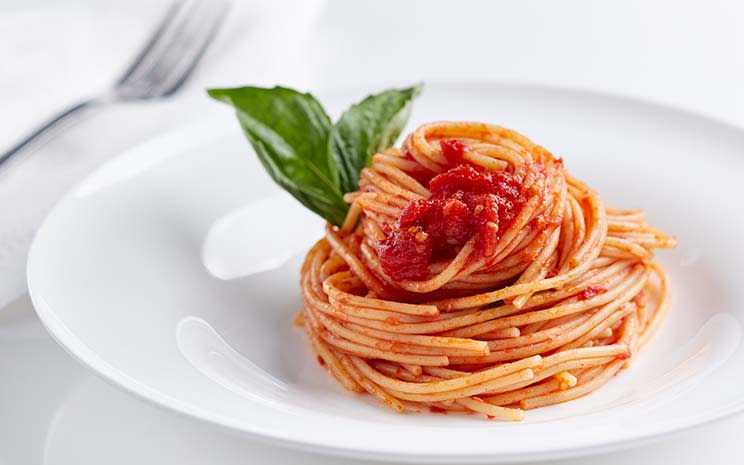 ITALY
Spaghetti al Pomodoro
1/4 cup extra-virgin olive oil
1 medium onion, minced
4 garlic cloves, minced
1 28-ounce can peeled tomatoes, puréed in a food processor
kosher salt
3 large, fresh basil sprigs
12 ounces spaghetti
1/4 cup finely grated Parmesan
Preparation:
1.  Heat extra-virgin olive oil in a 12-inch skillet over medium-low heat. Add minced onion and cook, stirring until soft, about 4 minutes. Add garlic and cook, stirring, for 2-4 minutes until golden brown. Increase heat to medium, add puréed tomatoes and season lightly with kosher salt; cook, stirring occasionally, until sauce thickens slightly and the flavors meld, about 15-20 minutes. Remove pan from heat, add basil, and set aside.
2.  Meanwhile, bring water to a boil in a 5-quart pot. Season with salt; add spaghetti and cook, stirring occasionally until about 2 minutes before tender. Check the cooking time on the pasta box, spaghetti usually takes 7-8 minutes for al dente. Once cooked, drain pasta, reserving 1/2 cup pasta water.
3. Heat skillet over high heat. Stir in reserved pasta water to loosen sauce; bring to a boil. Add pasta and cook, stirring until sauce coats pasta, about 2 minutes. Remove pan from heat; add cheese and toss until cheese melts. Transfer to warm bowls; serve with more cheese and basil, if desired.
Embrace true Latin and Caribbean flavors with this dish that's a perfect appetizer for your next meal.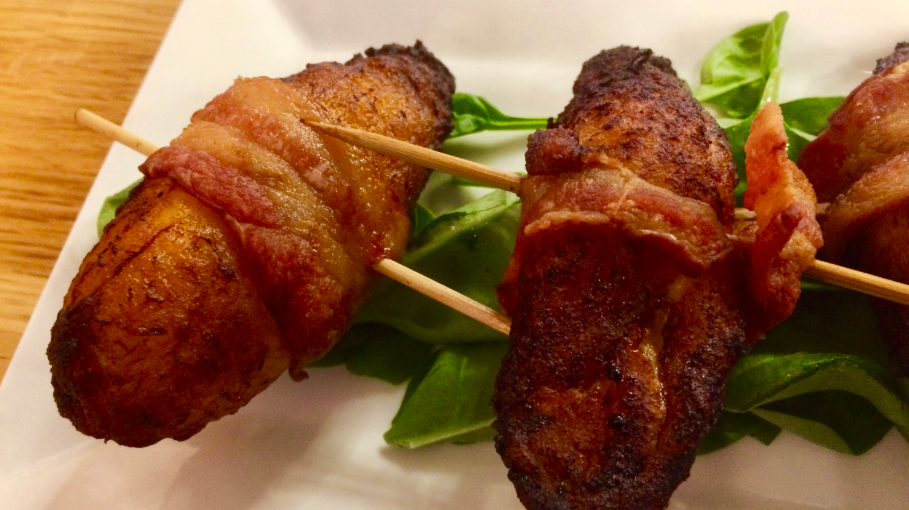 CUBA
Bacon-Wrapped Maduros
4 large, very ripe plantains
8 slices of bacon
Guava preserve or guava BBQ sauce
Preparation:
1. Heat oven to 350 degrees Fahrenheit
2. Cut plantains into diagonal slices
3. Wrap one slice of raw bacon around one piece of plantain
4. Bake in the oven until golden brown
5. Plate and drizzle with your chosen guava sauce
¡Buen Provecho!
Try this classic American dish at home, and when you're ready, stop by the now-open restaurant for a beer.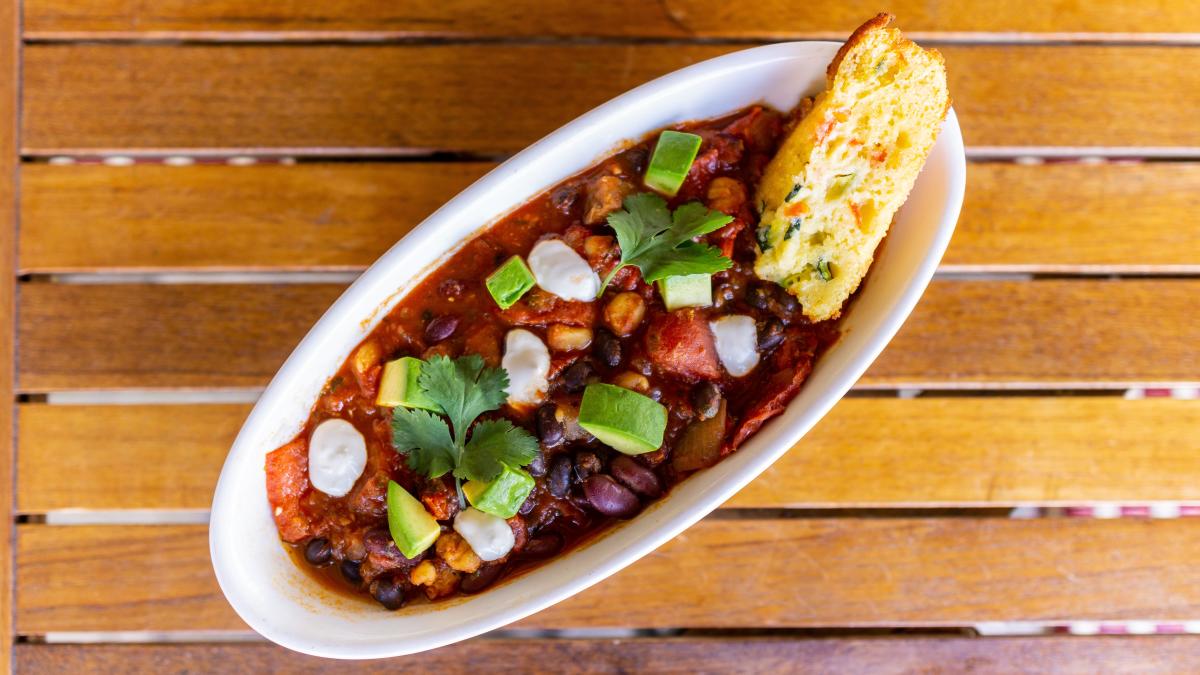 AMERICA
Vegetarian Chili
2 tbsp. blended oil
1/2 lb. butternut squash, ¾-inch diced
1/2 Vidalia onion, diced
1 clove peeled garlic, minced
3/4 lb. zucchini, ¾-inch diced
3/4 lb. eggplant, ¾-inch diced
1 jalapeño pepper, minced
1 red bell pepper, ½-inch diced
1 tbsp. ground dry ancho
1 tbsp. ground cumin
1/2 cup hominy
1/2 cup kidney beans, rinsed 
1/2 cup black beans, rinsed 
1 cup canned fire-roasted tomatoes
3/4 cup marinara
1 tbsp. fresh cilantro, chopped 
1 tbsp. Italian parsley, chopped 
1 pinch granulated sugar
1 tbsp. salt and pepper mix
Preparation:
1. Smoke the eggplant on low heat for about 10 minutes, then cool and reserve.
2. Bring a large pot to high heat, add blended oil. When hot, add butternut squash and sear to color and season. Once softened, remove butternut squash from the pan and reserve.
3. In the same pot, add onion and garlic and sauté for 3-5 minutes. Season with salt and pepper to taste and add a pinch of sugar.
4.  Add smoked eggplant, and stir for 3-5 minutes. Then add zucchini, red pepper, and jalapeño. 
5. Add ancho powder and cumin, sauté on medium-high heat for about 5 minutes. 
6. Add kidney beans, black beans, and hominy; and season with remaining spices. Stir and let the ingredients mingle.
7. Add tomatoes, marinara sauce, and reserved butternut squash.
8. Stir one last time, remove from pan, and cool. 
9. Serve and garnish with fresh cilantro and parsley. Top with avocado, sour cream, and any other toppings you may prefer. Enjoy!
Wild Sea Oyster Bar & Grille, located on Las Olas Boulevard in the Riverside Hotel, offers an ultimate seafood dining experience and here you'll find one their favorites.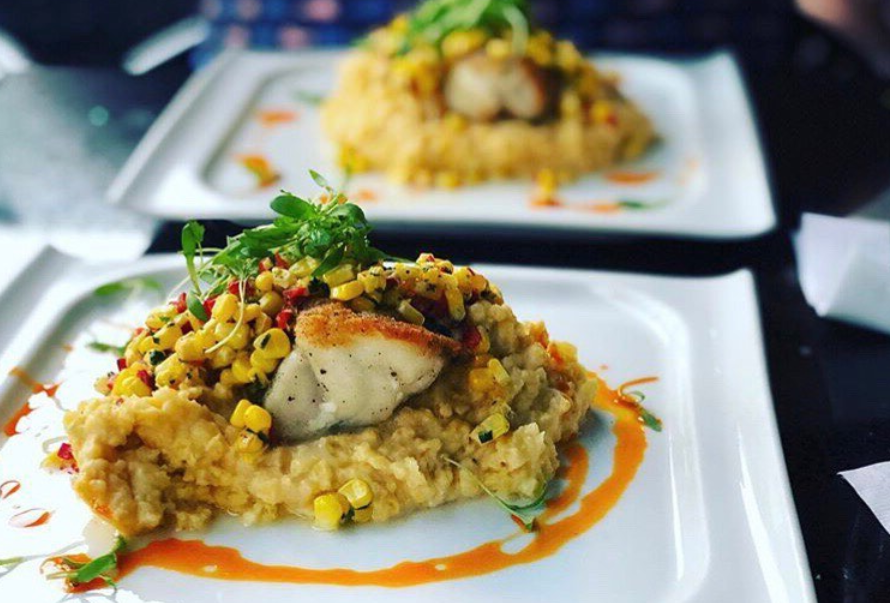 AMERICA
Pan Roasted Monkfish with Smoked Gouda Grits and Corn Succotash
Grits:
½ cup yellow grits
8 ounces heavy cream
½ stick butter
4 ounces Smoked Gouda Grits
Preparation:
In a 2 quart sauce pan heat the cream and butter to a boil. Stir in the grits. Return to a simmer stirring frequently then reduce heat to low, cover and simmer for about 10 minutes. Remove from the heat and stir in the cheese, check the seasoning and reserve.
Succotash:
2 cups fresh corn kernels
4 tbl red bell pepper (diced fine)
2 tbl chopped garlic
2 tbl chopped shallots
½ cup heavy cream
2 tsp finely minced jalapeno (reserve)
2 tbl butter (reserve)
Preparation:
Combine all ingredients except the jalapeno and butter in a 1 quart sauce pan and cook over medium heat until the corn is cooked and the cream has thickened. Set aside.
Monkfish:
2# fresh trimmed Monkfish loin cut in four equal portions
Preparation:
Preheat the oven to 450. Lightly season with salt and pepper and sear in a very hot oven safe sautee pan with either peanut, vegetable or canola oil. Avoid using olive oil for this step as it has a low smoking point. Brown the fish on the first side, turn and then put in the oven for 8 – 10 minutes.
Serve on 4 plates, divide the grits. Top each plate with a piece of monkfish. Return the succotash to the fire. When it reaches a simmer stir in the jalapeno and butter and then spoon over the fish and grits. Note: If monkfish is not available, good substitutes would be sea scallops or shrimp. Have fun!
Merging the best Asian and Latin flavors we all love, this Las Olas restaurant is famous for its inventive and delectable dishes. Here, they share one of their most popular menu items with us.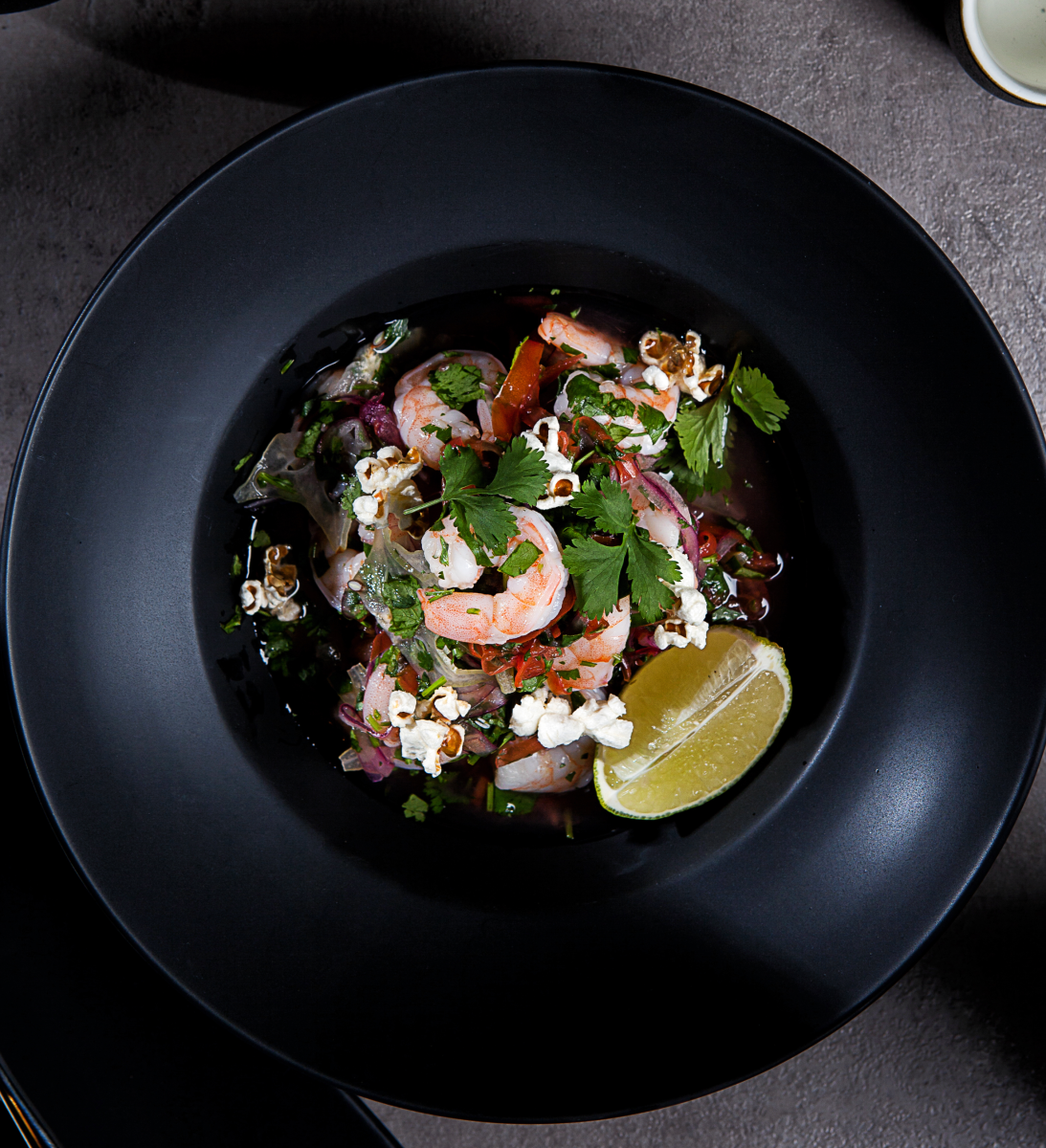 ASIA
Ceviche Classico
4 ounces raw shrimp, peeled and deveined
1 ounce thin-sliced conch
2 tbsp. cilantro, chopped 
3 tbsp. red onion, minced 
4 ounces lime juice
1/2 star fruit, sliced 
1 ounce popcorn for garnish
salt and pepper
Preparation:
1. In a small bowl, combine shrimp, conch, cilantro, onion, lime juice; and mix well.
2. Salt and pepper to taste.
3. Garnish with star fruit and popcorn. Serve chilled.
This Westin Fort Lauderdale Beach Resort restaurant is giving us the secret to creating a tasty treat at home, which will surely add a little of Mexico's lively ambiance to your kitchen.
MEXICO
Crab or Chicharron Guacamole
Component #1
Guacamole Ingredients:
3 fresh, ripe avocados
juice of 1/2 lime
salt to taste
Preparation:
1. Place the avocados, lime juice, and salt in a bowl.
2. Roughly mash ingredients together.
3. Ready to serve.
Component #2
Pico de Gallo Ingredients:
1 tomato, diced                                        
1/2 jalapeño pepper, seeded and minced
1/4 cup white onion, finely chopped               
1/2 bunch fresh cilantro, chopped                                
juice of 1/2 lemon
salt to taste
Preparation:
1. Stir the tomato, jalapeño, onion, cilantro, lemon juice, and salt together in a bowl.
Final Preparation:
Garnish the completed guacamole with pico de gallo and chicharrón or crab meat as desired.
Allow yourself to be transported to India with MOKSHA's contemporary specialties, featuring unique twists on traditional dishes.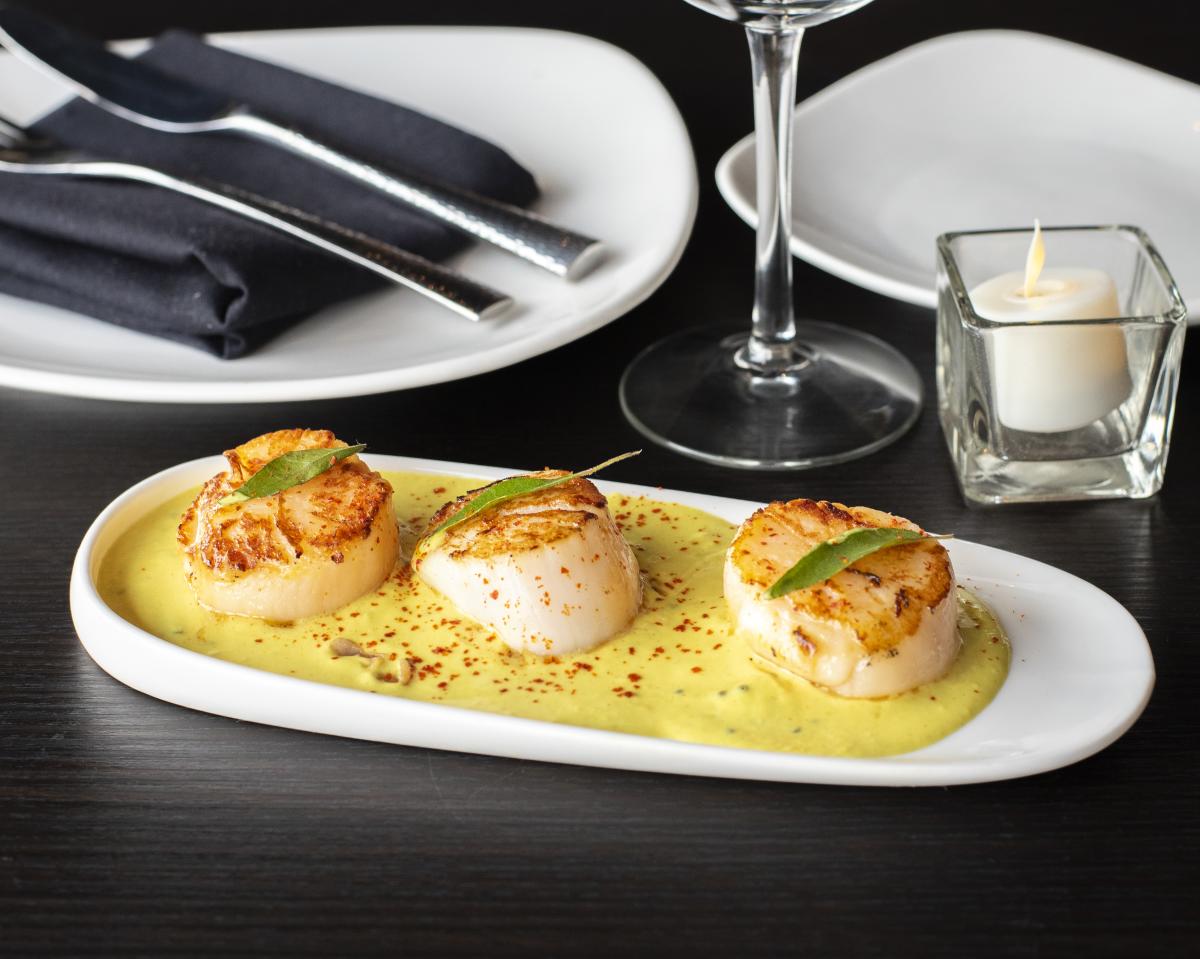 INDIA
Scallops Moilee
600g (shelled weight) bay scallops, cleaned
1 tbsp. coconut or groundnut oil
1/2 tsp. black mustard seeds
1/4 tsp. cumin seeds
1 onion, very finely chopped
2 green chilis, halved, deseeded, and finely sliced
4 garlic cloves, very finely chopped
2½-cm cube of ginger, peeled and grated
20 curry leaves (or 40 dried)
1/2 tsp. ground turmeric
400ml coconut milk
12 cherry tomatoes, halved
Squeeze of lime juice or lemon juice (to taste)
1½ tbsp. chopped fresh coriander, to serve
Plain boiled rice, to serve
Preparation:
1. Look at the scallops to find the little white bit on the side. This becomes tough when cooked, so cut it off.
2. Heat the oil and add the mustard and cumin seeds. Cook until the mustard seeds start to pop, then add the onion, chilis, garlic, ginger, and curry leaves. Cook for 12 minutes or until the onion is golden and the ginger no longer tastes raw.
3. Add the turmeric, cook for 1 minute, then add the coconut milk. Bring to a simmer, season, and add the tomatoes. Cook for 12-15 minutes or until the mixture is slightly thicker and reduced.
4. Cook gently for 5 minutes or until cooked through. Add lime or lemon juice to taste and season well. Scatter with coriander and serve with rice.
A perfect blend of Latin, Caribbean, and global flavors, Chef Jose Mendin's first Fort Lauderdale restaurant is serving up exceptional dishes like this Brazilian seafood stew.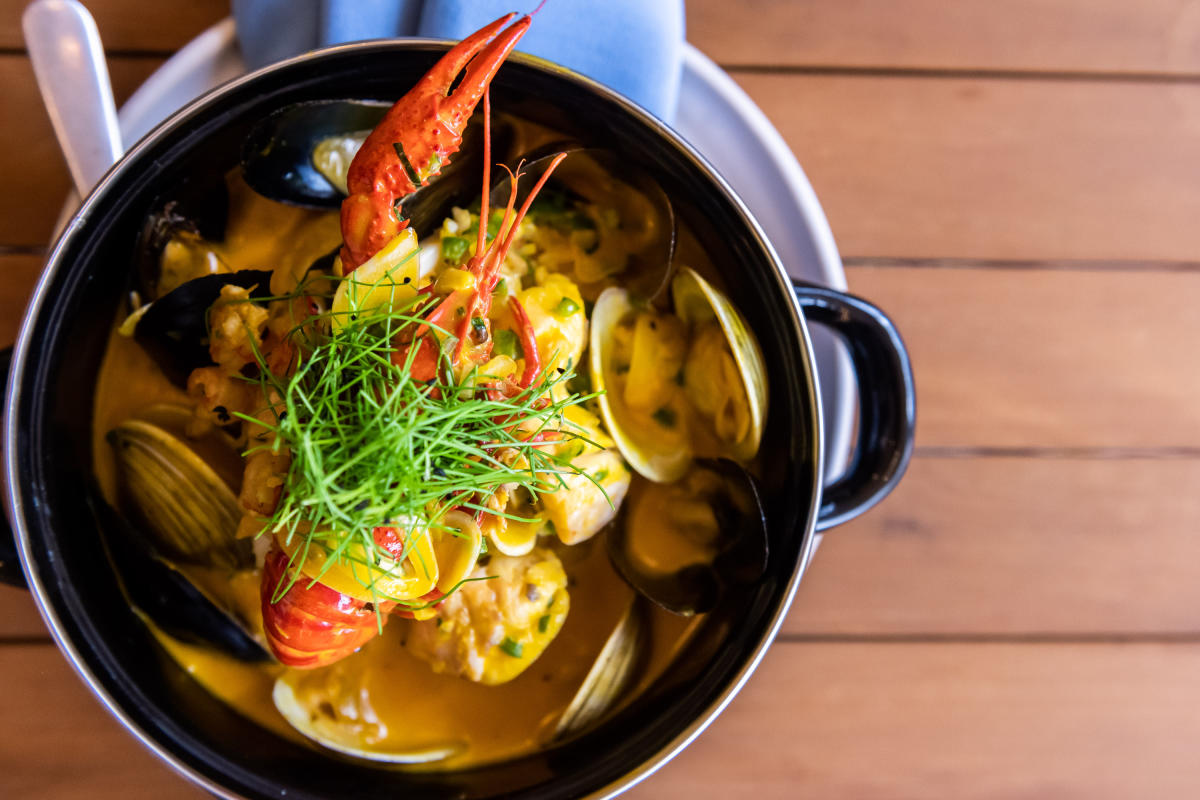 LATIN-SEAFOOD FUSION
Moqueca Mista 
5 shrimp, peeled
1 tube calamari, cut in strips
2 ounces salted cod fish
2 ounces crawfish meat
2 ounces white fish (like snapper, halibut, or other)
8 black mussels
8 white water clams
1/2 cup onions, chopped 
1/2 cup tomatoes, chopped 
1/2 cup okra, sliced 
1 tbsp. garlic, sliced 
1 cup lobster stock or fish stock
1 cup coconut milk
1 tbsp. cilantro, chopped 
2 tbsp. dende oil (red palm oil)
salt and pepper
Preparation:
1. Heat up a dutch oven or any large cooking pot until hot. Add dende oil and garlic until toasted, then add onions and tomatoes and cook until translucent.
2. Add okra and all seafood, cook for about a minute and add seafood stock.
3. Boil for about 2 minutes, then add the coconut milk and cilantro.
4. Cook on medium-high heat for about 5-6 minutes until all seafood is fully cooked and serve.