Diverse Accommodations, Exciting Attractions and Experiential Events on Tap in Greater Fort Lauderdale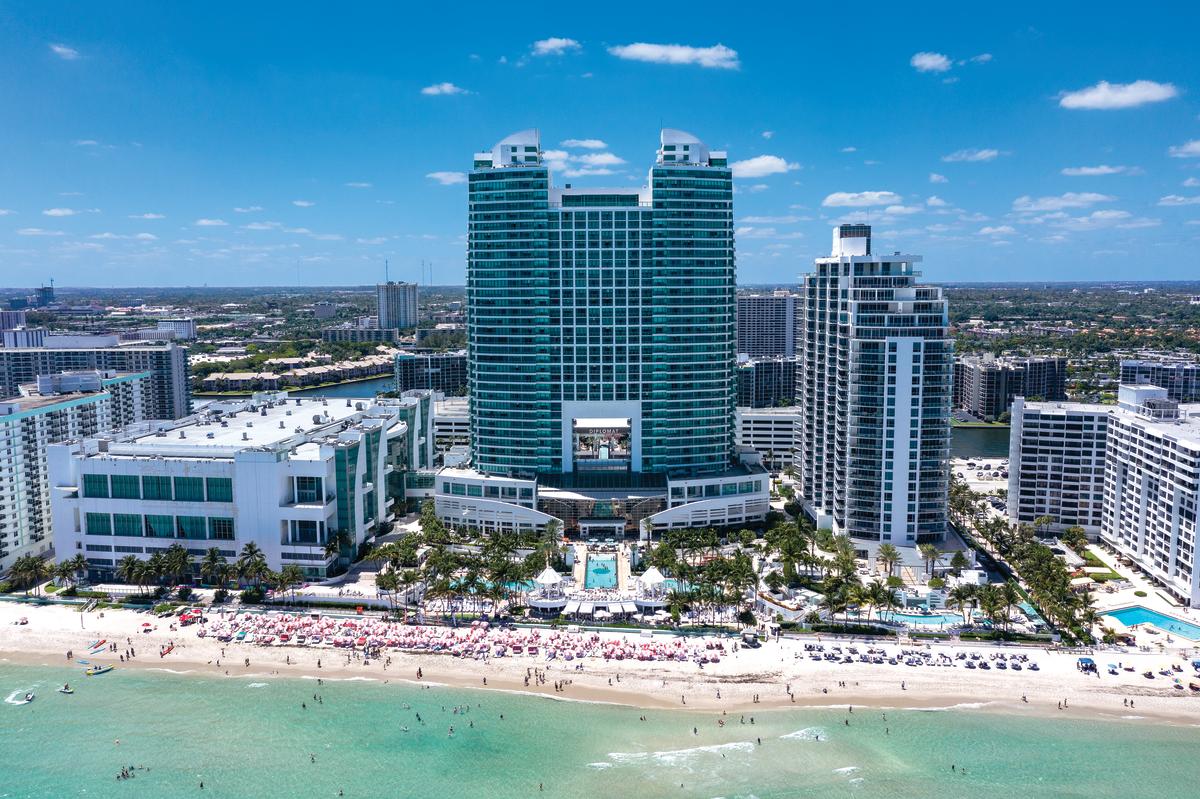 GREATER FORT LAUDERDALE, Fla. (March 3, 2023) – With frigid temperatures and dreary days still affecting much of nation, there is no better time to visit Greater Fort Lauderdale than now.
Visit Lauderdale, the official destination marketing organization for Greater Fort Lauderdale, warmly welcomes everyone under the sun with 24 miles of stunning, golden beaches, balmy breezes, and an enticing array of offerings to suit any travel style. 
So, what's new on the hotel, dining, and experience scenes of this diverse destination? We thought you'd never ask!
Hotels With Special Appeal
The venerable Diplomat Beach Resort in Hollywood, South Florida's only oceanfront property with more than 1,000 keys and over 200,000 square feet of meeting space, recently announced a new management agreement with Hilton Worldwide Holdings. The popular resort now sports a Curio Collection by Hilton flag. With $90 million in renovations, an additional round of upgrades is planned for the Diplomat's beach and pool areas.
Coming Soon
The Wyndham Dolce Hotel & Resort Hollywood, a 100-room, boutique hotel conveniently situated across from the Seminole Hard Rock Hotel and Casino in Hollywood. The Dolce brand offers imaginative environments for guests to connect, create, and discover. State-of-the-art meeting spaces with advanced technology paired with a sophisticated food and beverage program, offer an ideal combination for guests and meeting planners.
With flexible reservations and best-rate guarantees, guests can soon book a reservation at the Microtel Inn & Suites by Wyndham Fort Lauderdale. Located at 2005 N. Federal Highway, the 150-room property features smart design, sleek, modern rooms, and exceptional service help make every stay brilliantly simple. Amenities include free Wi-Fi and breakfast, along with a fitness center and pool.
Unique Events and Attractions
Visit Lauderdale Science Festival
March 3-4, 2023                                                                                                                                                                              
The Visit Lauderdale Science Festival, powered by the Museum of Discovery and Science, will bring together leaders in STEM, families and science-lovers of all ages and abilities. The two-day science fest features spectacular events, environmental films, engaging exhibitors and exciting demonstrations to make science accessible, interactive and fun. Individuals and families with physical and emotional disabilities and all levels of education are welcome.
Inaugural Pickleball Slam
April 2, 2023
A first-of-its-kind competition, the inaugural Pickleball Slam will feature four of America's greatest tennis legends, Andre Agassi, Michael Chang, John McEnroe and Andy Roddick who will compete for a $1 million purse at the Seminole Hard Rock Hotel & Casino in Hollywood.  Televised live on ESPN, the slam includes an amateur challenge, 96 doubles teams and a chance to compete against two of the tennis-turned-pickleball legends.
Giant Lego Sculptures Coming to Flamingo Gardens  
May 27-September 4, 2023
Featuring over 40 sculptures made from more than 800,000 LEGO® pieces, Sean Kenney's Nature POP® exhibition explores the beauty of nature through contemporary, stylized, and colorful displays that stand in striking contrast to their surroundings. Established in 1927, Flamingo Gardens is one of the oldest botanical gardens and attractions in South Florida. Located in Davie, the natural botanical gardens and wildlife sanctuary features native flora and fauna on 60 pristine acres.
Scuba Dive the Iconic 1,000 Mermaids in Hollywood
1000 Mermaids Artificial Reef site off the coast of Hollywood Beach is a first in Greater Fort Lauderdale. With 20 ocean-friendly artificial reef modules, some resembling mermaids, it is a monumental public eco-art project in the form of an artificial reef that serves as an underwater destination for coral restoration, eco-tourism, and research. Currently, this 1000 Mermaids location is accessible to certified, skilled divers via vessel.  Plans are underway for a future reef installation that will be accessible to those snorkeling from the shore in Broward County.
Dining
2023 James Beard Foundation Honoree, Chef Timon Balloo, The Katherine
The James Beard Foundation Awards, an esteemed honor, which fetes top tastemakers, emerging chefs, bakers and bars, recently named Timon Balloo a James Beard Award semifinalist in the "Best Chef: South" category for The Katherine, his cozy, seafood and vegetable-focused downtown eatery.
The Bite Eatery
The Bite Eatery, the first food hall in Pompano Beach recently debuted. Located at 2715 E. Atlantic Boulevard, just a few blocks away from the beach and the Fisher Family Pier, the 250-seat venue will feature nine culinary concepts, a central full-liquor bar and live music.
Mermaid Shows with a Twist
Famous since the 1950s for its aquariums, porthole views of the main pool and décor resembling a ship's interior, the B Ocean Resort's landmark Wreck Bar's entertaining dinner shows featuring real-life mermaids are legendary. Newly added are adults-only burlesque shows and all-male underwater aqua men performances.   
Evelyn's Fort Lauderdale at The Four Seasons Hotel and Residences
Chef Brandon Salomon's distinctive menu melds complex Eastern Mediterranean flavors with coastal Florida cuisine at Evelyn's Fort Lauderdale. The elevated dining experience is heightened by fresh ocean breezes in an atmosphere of sophisticated fun.
Jaffa Israeli Kitchen at Atlantic Village in Hallandale Beach
Israeli and Mediterranean cuisine with North African and Middle Eastern roots grace the menu at Jaffa Israeli Kitchen. Famed executive chef Yaniv Cohen presents dishes that highlight his native roots and in-depth spice knowledge such as turmeric roasted cauliflower, deconstructed baba ghanoush and a hummus bar. Diners will also enjoy entertainment and late-night parties featuring belly dancers, music by Israeli DJs and drink specials. 
Victor George Spirits
On tap for Fort Lauderdale's historic Sistrunk Boulevard neighborhood is Victor George Spirits. South Florida entrepreneur Victor George is building Fort Lauderdale's first distillery owned by Black spirits producer in the Victory Building, a three-story, 18,000 square feet structure. The building, named after the former Victory Theatre on Sistrunk Boulevard, will include the distillery, a restaurant, tasting rooms, a cigar bar, a rooftop patio featuring a DJ on weekends and a lounge for live music.
Transportation
New Rail System at FLL Broward County announced plans for massive $2.9 billion public transportation and infrastructure overhaul, including exciting upgrades and a dedicated rail system at Fort Lauderdale-Hollywood International Airport. Dubbed the "Automated People Mover," the APM would shuttle visitors along a three-mile loop with stations at the airport's terminals and parking garages. Plans also include a new rail service connecting Downtown Fort Lauderdale to Miami-Dade, a sophisticated new transit nexus at the airport, and services for moving commuters from Broward's suburbs to the busier coastline.
Brightline
For day-trippers, access to Greater Fort Lauderdale is faster and more convenient than ever before with Brightline. The high-speed rail recently added new stations in Boca Raton and Aventura, adding greater connectivity to Greater Fort Lauderdale from either Miami or West Palm Beach. The popular high-speed train will soon be adding additional service to Orlando.
With Greater Fort Lauderdale known as the Venice of America, residents and visitors alike can enjoy our famous canals and a scenic trip along the New River for free with the LauderGO Water Trolley.  
For a unique experience, take the free LauderGO! Micro Mover, a convenient and sustainable mobility option for residents and visitors to get around downtown, Las Olas Boulevard and Fort Lauderdale Beach. 
About Greater Fort Lauderdale 
Greater Fort Lauderdale boasts an average year-round temperature of 77˚F and has 3,000+ hours of annual sunshine and is known as the Venice of America and Yachting Capital of the World. Explore 4,000+ eateries, 300+ miles of navigable waterways, eight distinct beaches, a thriving arts and culture scene, craft breweries, rooftop bars, diving, fishing and other outdoor adventures, world-class shopping and boats, yachts and superyachts moored at the area's many marinas – all conveniently located in the center of South Florida. Made up of 31 municipalities, the destination boasts more than 38,000 lodging accommodations at a variety of hotels, luxury spa resorts and boutique properties, reflecting a cosmopolitan vibe. Upon arrival at Fort Lauderdale-Hollywood International Airport (FLL), it is just five minutes to the beach, Port Everglades, the Greater Fort Lauderdale/Broward County Convention Center and downtown. 
About Visit Lauderdale 
Visit Lauderdale is the official destination marketing organization for Greater Fort Lauderdale and serves as the tourism department for Broward County, Florida. Visit Lauderdale promotes the area's 31 municipalities to a global audience of leisure and business travelers as the ideal place for Everyone Under the Sun in recognition of the area's diverse and welcoming vibe, and books conventions into the Greater Fort Lauderdale/Broward County Convention Center and area hotels and resorts. Find more information at visitlauderdale.com and follow @VisitLauderdale on Facebook, Instagram, Twitter and YouTube.