Designed to restore consumer confidence, community embrace of Visit Lauderdale Safe + Clean Pledge reinforces that Broward County is #GreaterTogether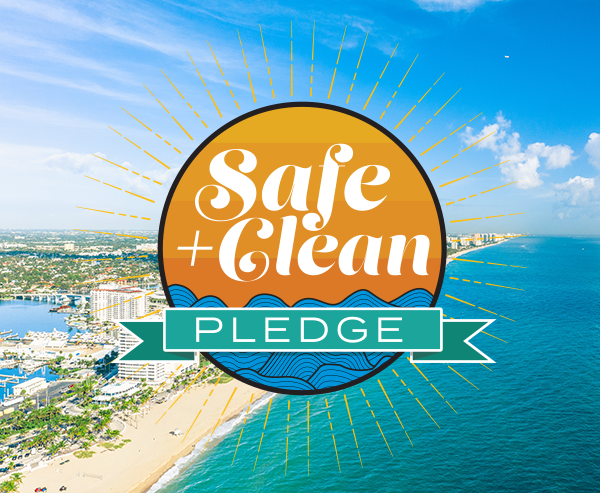 FORT LAUDERDALE, Fla. (February 22, 2021) – Visit Lauderdale is excited to share, in an extraordinary show of community support, more than 900 hotels, tourist attractions, restaurants, and other businesses in Broward County have taken the Visit Lauderdale Safe + Clean Pledge. 

Since its launch this summer, the aim of Visit Lauderdale's Safe + Clean Pledge has been to communicate and rebuild consumer confidence with a unified message that health and safety standards and protections against the spread of COVID-19 are a top priority. 

"We want visitors and locals alike to know that Broward County businesses are going above and beyond to keep them safe, and that's exactly what the Safe + Clean Pledge sets out to do," says Stacy Ritter, President and CEO of Visit Lauderdale. "At the same time, we are asking everyone to do their part by wearing a mask, staying socially distant and following CDC guidelines. The bottom line is that we want everyone to stay safe while enjoying our destination." 

Participating establishments like The Restaurant People, known for popular dining hotspots like YOLO, Boatyard, S3 and Tarpon River Brewing have invested considerable resources to ensure the establishment, staff, and guests remain safe and healthy. Those participating in the Safe + Clean Pledge have promised to follow Centers for Disease Control and Prevention (CDC) cleaning protocols, wear masks, provide hand sanitizer, practice social distancing, train staff how to be safe and clean, and work toward adopting contactless payment. 

"We are excited to be a part of the Visit Lauderdale Safe + Clean Pledge," says Tim Petrillo, CEO and Co-Founder of The Restaurant People. "It's critically important that both our locals and visitors know that we are 100% committed to keeping everyone safe while enjoying their dining experience at every TRP restaurant." 

Broward County is home to 31 municipalities and Visit Lauderdale has relied considerably on partnerships with the cities and chambers of commerce to get the word out. A shining star example of this collaboration is the City of Lauderhill, which has signed up more than 400 local businesses to take the pledge. 

"In partnership with the Lauderhill Chamber of Commerce, we have made it our mission to encourage hundreds of businesses in our city to take the pledge to provide a safe and clean experience for visitors and locals alike," says Denise Grant, Vice Mayor of the City of Lauderhill. "I am proud of the way our community has banded together. And it is through this concerted collaboration, that we will rise above these challenges and keep our community safe and open to all." 

In advance of the busy spring travel season, Visit Lauderdale is working on a social media campaign promoting the Safe + Clean Pledge and PSAs encouraging travelers to follow safety guidelines. Additionally, we executed a short video geared toward younger travelers, encouraging them to social distance in style in Greater Fort Lauderdale. Video here: https://www.youtube.com/watch?v=X9AUg90eEM8&list=PLGd9sNMQPN_e-ZX1VV6VJTT9Kc3TWkxHc&index=6 

The Safe + Clean Pledge was developed by Visit Lauderdale in support of Broward County's hospitality industry and business community. It works together with the Greater Fort Lauderdale Alliance's Supporters of Broward (SOB) campaign and is in line with standards established by the Florida Restaurant & Lodging Association (FRLA). Additionally, it has the support of the Broward County Tourism Coalition Council, City of Lauderhill, Lauderhill Chamber of Commerce, Greater Fort Lauderdale Chamber of Commerce, the Greater Hollywood Chamber of Commerce and more. 

To learn more about the Visit Lauderdale Safe + Clean Pledge as well as travel resources, visit https://www.sunny.org/travel-resources/.

Local businesses who would like to apply for designation should visit https://www.sunny.org/pledge/. 

Please also see: Four Family-Friendly Springtime Ideas in Greater Fort Lauderdale via https://www.sunny.org/articles/post/family-friendly-spring-break/. 

Find images here: https://www.dropbox.com/sh/a0zr0wkbjzzl5l5/AAAc_aS7ubNt2nMEz43ZzDiBa?dl=0. 

About Greater Fort Lauderdale
Greater Fort Lauderdale boasts an average year-round temperature of 77˚F and has 3,000+ hours of annual sunshine. Explore 4,000+ eateries, 300+ miles of navigable waterways, eight distinct beaches, a Greater Fort Lauderdale tourism industry thriving arts and culture scene, craft breweries, rooftop bars, outdoor adventure, and world-class shopping – all conveniently located in the center of South Florida. Made of up 31 municipalities, the destination boasts more than 35,000 lodging accommodations at a variety of hotels, luxury spa resorts and Superior Small Lodgings reflecting a cosmopolitan vibe. Upon arrival at FLL Airport (Fort Lauderdale-Hollywood International Airport), it is just five minutes to the beach, Port Everglades, the Broward County Convention Center and downtown. For trip planning inspiration, visit sunny.org and follow @VisitLauderdale. 

About Visit Lauderdale
Visit Lauderdale, a.k.a. the Greater Fort Lauderdale Convention & Visitors Bureau (GFLCVB) is the tourism marketing organization for Broward County, Florida, where last year more than 13 million annual visitors supported 180,000 direct and indirect tourism jobs and spent over $8 billion. The GFLCVB markets Greater Fort Lauderdale's community of 31 municipalities to a global audience of leisure and business travelers and books conventions into the Greater Fort Lauderdale/Broward County Convention Center and area hotels and resorts. The GFLCVB produces marketing and brand campaigns to keep the destination top-of-mind with travelers and maintains relationships with and hosts site tours for travel journalists, social media influencers, meeting planners, sports event planners, tour operators and travel agents. For more information about the destination, visit sunny.org and follow @VisitLauderdale on Facebook, Instagram, Twitter and YouTube.