Thanks to an $80 million renovation on the beach —fit with a new parking garage and fish-shaped pier, and a boom of hot new restaurants— Pompano Beach is quickly becoming a top destination in Greater Fort Lauderdale. The beachfront city just north of Fort Lauderdale is on the rise, and we've got the scoop on where to go and what to do.
New on the Scene
Flamingo Grill & Modern Buffet
New to the city is this Japanese buffet, serving up all your favorites from seafood and steak hibachi to a decadent dessert table. Dinner is also served all day on the weekends.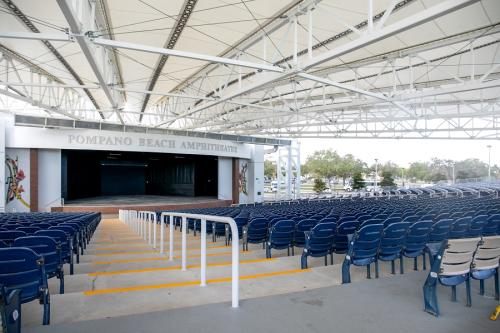 After being closed for two years for $2.5 million in renovations, the 3,000-person amphitheater opened its doors again with its first show in February 2022: Styx and Don Felder of The Eagles. Concertgoers can enjoy new stage lighting, upgraded concessions, and a covered seating area.
SE Fifth Avenue Bridge
At the end of May, the mayor celebrated the opening of the new bridge at Southeast Fifth Avenue and Southeast 12th Street with a ribbon-cutting ceremony. Check out the small dolphin mural at the entry by D. Friel, the same artist who did the "Atlantic Harmony" mural at the Intracoastal bridge.
Pier 6 Rooftop Pompano Beach
Coming up on a year of business, the rooftop bar atop Tru by Hilton Pompano Beach Pier offers happy hour every day from 3 to 6 p.m. It's also a happening spot, hosting parties, live music, and special events.
On the Horizon
The first food hall in Pompano Beach opens in 2023, just a few blocks away from the beach and the Pompano Fishing Pier. The 250-seat venue will feature The Beach Bar, a central full-liquor bar, plus nine food vendors.
McNab House and Gardens
It's not all about new development in Pompano Beach! The historic McNab House was moved from its original location in 2021. The city has plans to convert it into a restaurant situated in a lush botanical garden, providing residents and visitors a space to go back in time.
South PMP Bar & Kitchen
With YOT Bar & Kitchen and JET Runway Cafe under his belt, restaurateur Mike Linder is looking to add this new modern eatery to downtown Pompano Beach. Stay tuned for the grand opening, expected in the Fall of 2022.
Papamigos
The Mexican-Asian food truck has made waves with locals during Old Town Untapped and other outdoor happenings. Now, the business is on the cusp of opening a brick-and-mortar shop — the owners are anticipating an early 2023 grand opening.
Flamingo Seafood
The Marathon gas station on Atlantic Boulevard is getting a revamp and turning into a seafood restaurant.
Youth Sports Complex
In the works in Pompano Beach is a 2,000-square-foot athletics complex on Centennial Park for the city's youngsters, outfitted with a concessions stand, outdoor porch, folding roof, and more.
EVENTS COMING UP
June 3-Aug. 17: Black & White and Gray All Over
Hosted by ArtsUnited and held at the Bailey Contemporary Arts Center's West Gallery, the visual art exhibit features works using only black, white, and shades of gray.
June 18: Juneteenth Celebration
From 11 a.m. to 5 p.m. at Apollo Park, 1580 NW 3rd Ave. In its 21st year of celebrating the emancipation of enslaved people, the Juneteenth Celebration Blues & Sweet Potato Pie Festival features food, health vendors, games, giveaways, and performances by the GP Band, Poet Eccentrich, The Ashanti Culture Arts, and the Cross Family. 
July 4: Fourth of July Firework Extravaganza
From 5:30 to 9:30 p.m. at the Fisher Family Pier, 222 N. Pompano Beach Blvd. Celebrate America's birthday with live music and fireworks along the beach. In case of rain, the event is rescheduled for July 5.