History Fort Lauderdale Presents Exclusive 60th Anniversary Retrospective of Popular Movie Filmed in Fort Lauderdale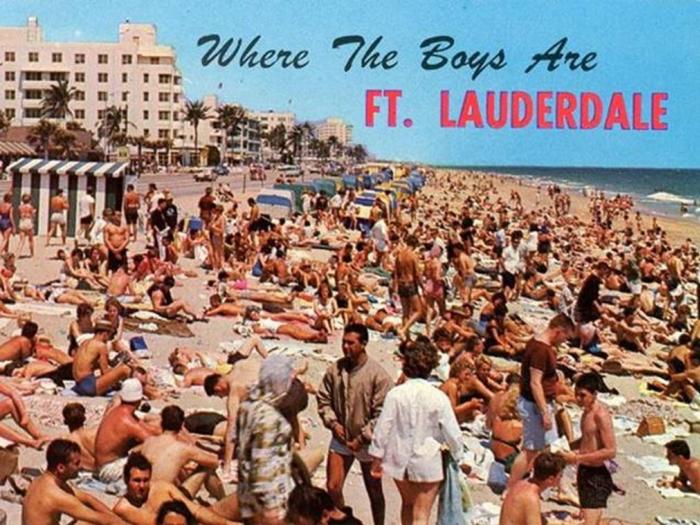 Put on your classic Ray Bans and head to The Galleria at Fort Lauderdale for a nostalgic, behind-the-scenes look at the making of Where the Boys Are, the iconic 1960 film that was shot in and around Greater Fort Lauderdale. This landmark spring break film is being honored with a 60th anniversary photo exhibition presented by History Fort Lauderdale on view at The Galleria at Fort Lauderdale from December 3, 2020 through January 3, 2021.
Silly and sometimes salacious, American CinemaScope's 1960 comedy Where the Boys Are celebrated the college quest for spring romance and launched a golden era of global tourism recognition and economic prosperity in Fort Lauderdale.
Free and open to the public, the walk-through exhibition features 40 curated historical and never-before-seen oversized images. They chronicle the making of the movie and its Fort Lauderdale star-studded premiere at The Gateway Cinema on Sunrise Boulevard in Fort Lauderdale on December 28, 1960.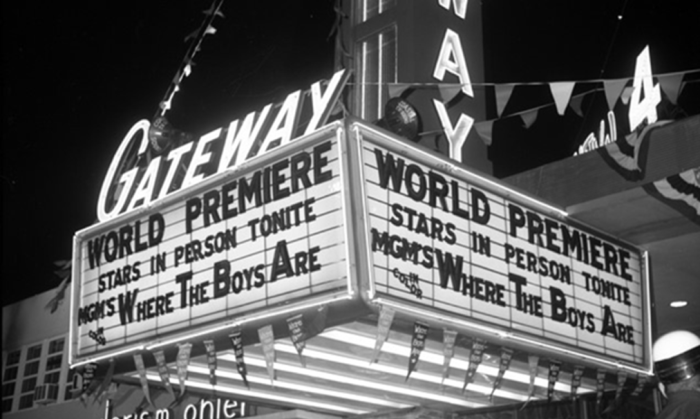 An array of slice-of-life and candid on-set images from the film captures the likes of actress Connie Francis, who was a Fort Lauderdale resident at the time of filming and sang the film's title theme, plus stars Dolores Hart, Paula Prentiss, George Hamilton, Yvette Mimieux, Jim Hutton and Frank Gorshin.
Some photos were taken on the actual site of The Galleria at Fort Lauderdale, which in 1960 was the open-air Sunrise Center. Many photos feature local South Florida extras and regional film crew who starred in and worked on the film.
History Fort Lauderdale, which showcases the Fort Lauderdale community's past by making its heritage accessible and engaging, is presenting these memorable images that have been ingrained into pop culture on the silver screen.
Fort Lauderdale initially became a popular destination for college students every spring break in the 1950s. Where the Boys Are immortalized this tradition that continued until the 1980's, when city leaders passed a series of laws to reduce disruptions caused by large numbers of spring breakers.
View a pictorial destination timeline starting with Where the Boys Are in 1960 through the peak of spring break in the 80s to the diverse community, booming downtown district and luxury hotels of Greater Fort Lauderdale's new millennium.
Greater Fort Lauderdale has evolved from being a spring break hotspot to a cosmopolitan, culture-rich destination. Today you'll find a diverse array of experiences that go beyond the beautiful beaches to include a melting pot of diverse arts and culture, music, dining, shopping, events and more that appeal to visitors from near and far. The 60th anniversary photo exhibition showcasing "Where the Boys Are" is a true flashback to a different time in Fort Lauderdale's illustrious history.  
             Watch the Emmy-nominated Story of Greater Fort Lauderdale video to see the area's evolution.
There are fun ways to make a day out of visiting the exhibition. Take the Water Taxi for a leisurely ride on Fort Lauderdale's waterways to get to The Galleria at Fort Lauderdale. Or hop on the Sun Trolley to take in sights along A1A including the famous Wave Wall that spans for miles, separating the sidewalk from the sand.
In compliance with local and state health guidelines, visitors to History Fort Lauderdale's Where the Boys Are 60th anniversary exhibition at The Galleria at Fort Lauderdale will be required to wear a mask and practice safe social distancing of six feet apart.
Those who want to take a deep dive into local history can visit History Fort Lauderdale, which brings the stories of Fort Lauderdale's diverse community to life through engaging educational experiences, innovative cultural exhibits, research and the preservation of artifacts.