While the rest of the country is packing up and heading indoors, those of us who live in South Florida are heading out. It's the moment that glorious first hint of a change in the weather arrives. The heat and humidity lighten up, the A/C goes off, we dine outside, and fall-winter-spring is here. Here's a look at this six-month season's calendar of events — each one of them practically guaranteed to make you the envy of your freezing friends back home.
It Usually Starts in October
You won't see any leaves change color, but you will have vivid blue skies overhead. They make the perfect setting for the Oakland Park Oktoberfest Celebration. Presented by Funky Buddha Brewery, the event takes place in the first week of October. $5 gets you into Jaco Pastorius Park, which is transformed into a three-day Biergarten, and then you can get your German on.  
Professional yodelers, zither, and accordion players, Schuhplattler dancers and "Polka Party" performers entertain the crowd. (Not to be outdone are the beer barrel races and apple strudel eating contest.) Bavarian cuisine and German-style beer are of course on the menu. Fill your stein and settle in for the Dachshund Dash. Even if your furry little friend is home with the dog sitter, you can still cheer on these surprisingly fast weiner dogs.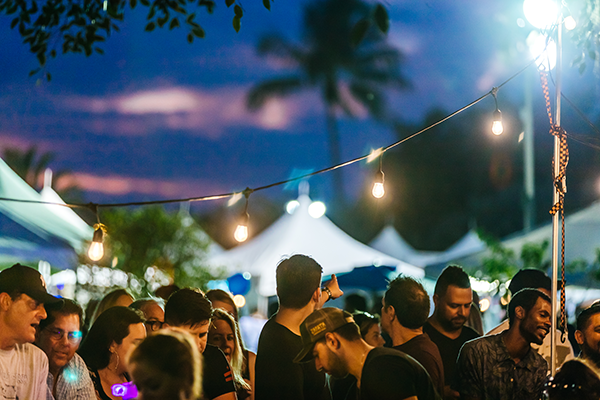 Soak up Brazil's art, culture, music, and food at the annual Brazilian Festival of Pompano Beach in mid-October. With a theme of "Bridging the USA and Brazil by Love, Peace, and Unity,"  the multicultural grassroots event features two stages, a multi-Grammy-winning lineup of performers, vendors, and activities for the whole family. This is the largest Brazilian festival on the Southeast coast, and local Brazilian restaurants throughout Greater Fort Lauderdale come together in the "Flavor-land." Sample your way through everything from traditional rodizio and churrasco to the sweet tastes of brigadeiro and dulce de leche.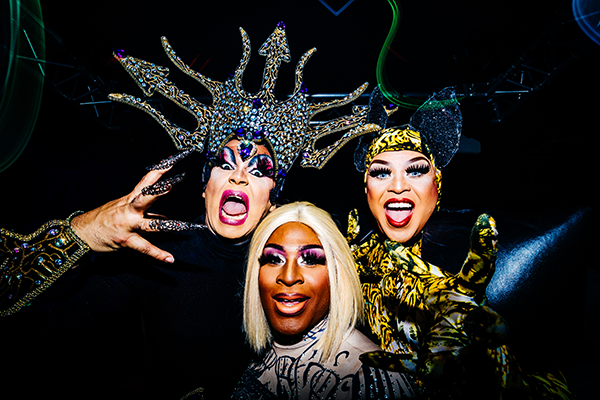 South Florida's largest Halloween street party, Wicked Manors descends on Greater Fort Lauderdale's biggest LGBT+ community in Wilton Manors every year on October 31. Whimsical and outrageously festive, this outdoor party boasts some of the most creative costumes and jaw-dropping entertainment you have to see to believe. Past themes have included  "Freak Show," "Heroes and Icons,"  and "Game Night" among others. Although 18,000+ people are expected, the city of Wilton Manors prohibits traffic and provides a safe area for guests to celebrate and trick or treat.  
November Isn't Just for Turkeys
With average lows of 64 degrees, November ranks high in outdoor events. The days of yore come alive during the Camelot Days Medieval Festival at T.Y. Park in Hollywood, FL for two weeks of music, magic, and melee. Feast like a king, shop the market vendors, watch a living chess game and jousting competitions, hang with royalty, fairies and swordsmen. If you've ever been a fan of medieval movies or children's fantasy books, this fest is for you.   
Down here, boating is more than a passion, it's a lifestyle. And nowhere is this more evident than at the Fort Lauderdale International Boat Show, which returns each November. Spanning six miles of docks and bringing more than 1,500 boats and well over 1,000 exhibitors, people come from all over the world to this angler-inspired event. 
Mega-yachts usually draw the big ogling crowds, but the smaller vessels and gear on display take up most of the real estate (on land and on water). Buy tickets in advance because this event almost always sells out.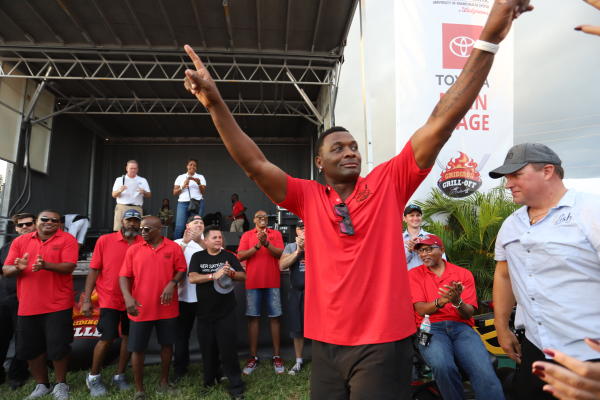 Another November staple is the Gridiron Grill-Off Food, Wine & Music Festival at the Pompano Beach Amphitheater. John Offerdahl and fellow Miami Dolphins legends team up for this fundraising event that's all about food and drink, live music, BBQ competitions, and corn hole. 
The Big Guy in Red's Favorite December Stop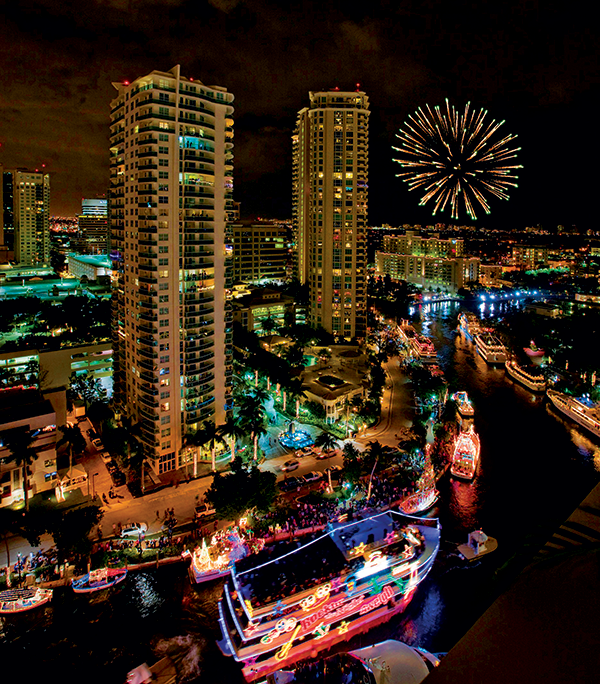 As the holidays approach, the biggest way to get your out-under-the-stars cheer on is the Seminole Hard Rock Winterfest Boat Parade.  It's everything you love about the holidays, with boats — 12 miles of 'em — that's how long the parade route is. Over a million event-goers line the seawalls for a close-up view. Boats big and small "deck the hulls" with holiday lights and themes worthy of a live broadcast on Visit Lauderdale TV. Different celebs have been Grand Marshalls over the years, and the final float is visited by, you guessed it, Santa Claus.
You Can Wear Shorts in January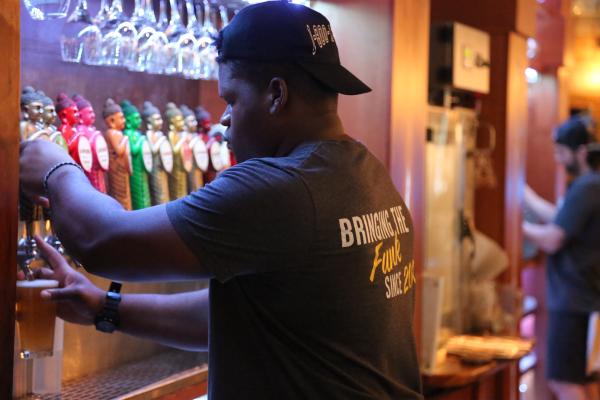 Named after the "beer that started it all," Funky Buddha Brewery's  Maple Bacon Coffee Porter Festival in Oakland Park attracts a craft-beer loving crowd in early Jan. The aromas of rich maple and freshly roasted coffee fill the fresh air as you stroll amongst 50+ brewery tents from across the country.  If a beer that tastes like coffee isn't your thing, your ticket also gets you unlimited samples of rare Funky Buddha beers along with limited offerings from the other brewers. 
February Gets Cold, Kinda
It's easy to spot the Floridians this time of year. They're the ones walking around in jackets and boots when it's 69 degrees. But 16th-century wear is the style at the Florida Renaissance Festival.  This medieval fest takes place in Quiet Waters Park in Deerfield Beach. Wizards, wenches, revelers, and swashbucklers take over a large portion of the park for six weeks — they even camp there— and perform on the weekends. You'll dance to the tunes of bagpipes, Celtic strings, trumpets, and trombones. Food and drink are served aplenty, and over 100 artisans display their wares. The festival closes every day at sunset, which doesn't occur until after 6 pm in February in Greater Fort Lauderdale, so you'll have plenty of time to take in the festivities.
Yes, the weather is perfect all month, but you might want to consider going inside for at least one day for the Seminole Tribe of Florida's Tribal Fair and Pow Wow. This annual celebration of Native American arts and culture takes place at Seminole Hard Rock Live. At a traditional Native American Pow Wow, tribes come together to dance, sing and make new friends. You'll experience all that, plus enjoy alligator wrestling, wildlife shows, a drumming competition, authentic fare and arts, and crafts. Consider booking a room now at the new Hard Rock hotel, the "guitar hotel." The first of its kind, this 450-foot tall architectural masterpiece, and surrounding amenities is a vacation in itself.
Of course, the biggest thing to hit these South Florida shores in February is the 2020 Super Bowl at Hard Rock Stadium. With its recent $500 million renovation project complete, the retractable roof, or canopy, allows fans to cheer on their teams under a brilliant night sky. If you're planning a visit for the big game, check out what to do while you're here for the Super Bowl.
Spring Break is More than College Kids 
From March to May, the temperatures in Greater Fort Lauderdale hover in the high 70s and low 80s. Up north you're probably dealing with one or two final snowfalls of the season but here, you're sitting pretty while you enjoy a breezy alfresco lunch on the water. 
Green takes over the streets of downtown Fort Lauderdale during the free St. Patrick's Day Parade and Festival. The day is filled with live music and entertainment, a kids zone, exhibitors, games and contests, and Irish cuisine. Your inner leprechaun will feel like a kid again in the Leprechaun Leap Family Fun Run. Watch the parade as it travels down world-famous Las Olas Boulevard with floats, marching bands, pipes and drum corps, and lots of green beads and candy.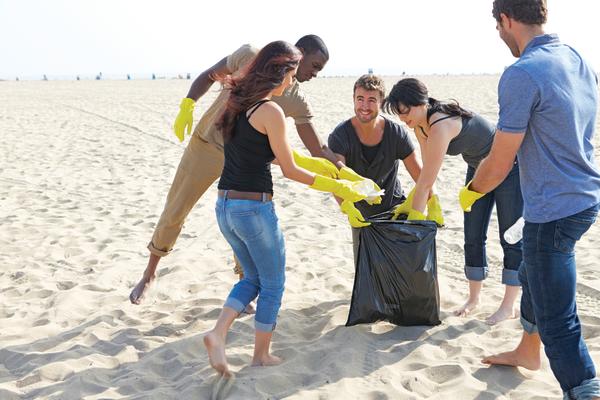 Take an eco-break from all that vacationing and volunteer at a Broward County Waterway Cleanup presented by the Marine Industry Association of South Florida. You'll feel good about helping haul away some of the 15 tons of trash. You can choose from locations on the beaches or waterways. Afterward, enjoy the Trash Bash that features food, drinks, raffle prizes, and live music. See? Back to vacation mode already.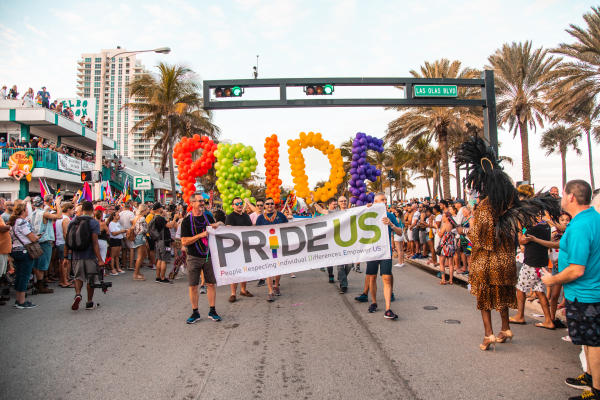 The very first Pride of the Americas comes to Greater Fort Lauderdale in 2020. Six days of LGBT+ events will begin with Opening Ceremonies on Tuesday, April 21  in downtown Fort Lauderdale and culminate on Thursday, April 26 with a beach festival and fireworks display. An estimated 350,000 will attend, so make your plans now. Clothing-optional Worthington Resorts has three properties in the area. If you're looking for something more family-friendly, check out Pelican Grand or The Atlantic Hotel.
Fleet Week Port Everglades takes place in May and honors visiting Sailors, Marines and Coast Guardsmen. America's finest attend a variety of functions and participate in community events throughout the week, while public tours are given on the visiting ships. Past vessels have included a nuclear submarine, destroyer, guided-missile cruiser, and U.S. Coast Guard cutters. Amazing how you can be standing on the massive deck of a Navy destroyer under the warm May sun and still get chills. Make reservations way in advance, tours fill up fast.
Buy your tickets now for 2020's Fort Lauderdale Air Show, May 2 & 3.  Elite fighter jets and military-grade seaplanes will once again thunder overhead for a thrilling performance of high-flying stunts.  The United States Air Force Thunderbirds will return to close out both days in an epic show in the sky. The event is free to attend, but if you want to score a spot on the beach in the "drop zone" — the aerial 50-yard line — tickets are required.
Book a room at one of the host hotels and stay the weekend if you can. They line Fort Lauderdale beach so you get great views of the action and your best chance of meeting some of the pilots. Sonesta Fort Lauderdale, Atlantic Hotel & Spa, Conrad Fort Lauderdale Beach, Pelican Grand Beach Resort, The Ritz-Carlton, Fort Lauderdale, Bahia Mar, Hilton Fort Lauderdale Marina, and Fort Lauderdale Marriott Harbor Beach Resort & Spa.
FOMO starting to creep in? Mark your calendars and plan ahead. These are some of Greater Fort Lauderdale's biggest and best outdoor events and they're perfect ways to enjoy the cooler temperatures. Look for me when you're here — I'll be one of the ones wearing a jacket.