Whether you're looking for a staycation, workcation, or a much-needed family vacation, Greater Fort Lauderdale offers plenty of Boutique Properties known for their friendly ambiance and personalized services. These are welcoming, high-quality vacation accommodations with 50 rooms or less. So, pack up your suitcase and look forward to memory making in quaint, picturesque inns, B&Bs and cottages ready to welcome you to a fabulous and much deserved getaway.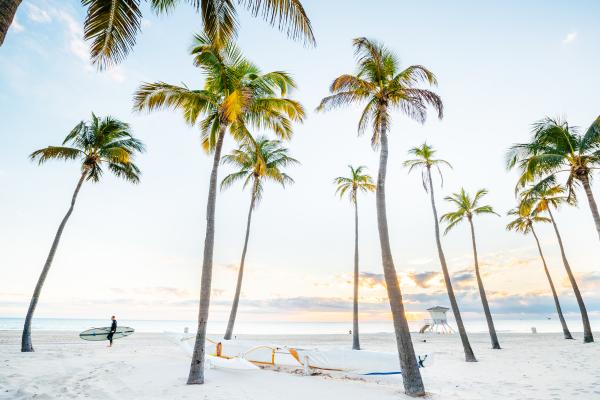 1. Friendly Ambiance & Personalized Service
Greater Fort Lauderdale is a beautiful melting pot of cultures. People from over 170 countries, speaking more than 147 languages call Greater Fort Lauderdale home. The inclusive vibe is authentic, and your gracious hosts will make you feel welcome. Many boutique properties are family-owned and operated, and many hosts are multilingual. They will guide you to hidden gems and locals' favorite spots. Part of the charm of staying at a boutique property is to experience a new place like a local. Local hosts can curate itineraries to satisfy your wish list of immersive activities.
2. Extend Your Stay
You are looking for more than just a weekend out of town. It's been way too long since your last vacation, and you want to unplug until further notice. Maybe you're planning a road trip. Take the time to recharge after that long drive. Discover experience-rich Greater Fort Lauderdale and all its beauty at your leisure. You will find there is plenty to do here, making it worth your while to extend your stay. Make your home base at one of Greater Fort Lauderdale's 25 boutique properties. They offer comfort for less and a special atmosphere of friendliness and charming hospitality. Plus, no resort fees.
Explore 31 cities and their diverse offerings. Enjoy eight distinct beaches covering 23 beautiful miles of Atlantic coastline. Trek the waterways and Venice-like canals via Water Taxi. Tour outdoor murals in Fort Lauderdale's artistic warehouse districts of FATVillage and MASS District, or the Downtown Hollywood Mural Project in Florida's Hollywood. Take a thrilling airboat ride in the Everglades and spot alligators, dive into Shipwreck Park, or learn to surf. Score designer deals at Sawgrass Mills, offering an impressive range of 350+ stores, check out rotating exhibits at NSU Art Museum Fort Lauderdale, or try your luck at casinos like Seminole Hard Rock or The Casino @Dania Beach. You'll find plenty of unique, only-here specialness that makes Greater Fort Lauderdale so extraordinary.
3. Book a Workation
You can work from anywhere, so why not? Tropical breezes, relaxing ocean waves, lush tropical gardens, cozy settings, friendly staff…indulge in a change of scenery. Take your pick from boutique properties offering beachfront views, tropical garden views, and screened in porches and patios. You'll be just steps away from award-winning broadwalks, piers with Wi-Fi, restaurants and more. And after the workday or during a break, enjoy miles of shoreline for long, uninterrupted runs or walks. Soak up the sun while social distancing by spending the day at one of the many beaches, parks or nature preserves. Get inspired by these top 8 experiences for remote working families in Greater Fort Lauderdale.
4. Home-Away-From-Home
Tired of the same four walls? Boutique properties feature all the comforts and essentials you need including full kitchens, free Wi-Fi, king beds plus sleeper sofa in living rooms, beach gear and a host of amenities to make you feel right at home. Enjoy swimming pools, sundecks, BBQ grills, laundry facilities onsite and more. You will find everything you need in your home-away-from-home.
5. Cleaning Protocols
You look forward to memory making in a unique surrounding. Stay fret-free knowing that your choice of accommodation has taken Visit Lauderdale's Safe & Clean Pledge and has also been recognized for award-winning housekeeping and guest services. The prestigious Donal A. Dermody White Glove Award recognizes boutique properties for housekeeping excellence, receiving a 100 percent score on that portion of their inspection. Their attention to cleanliness assures an exceptional guest experience.
Whether you wish to relax by the water or spend the day exploring like a local, Greater Fort Lauderdale's advanced safety and cleaning protocols allow you to feel safe and stay healthy while enjoying paradise. And your paradise includes the ultimate home-away-from-home.
Check out some of our favorite boutique properties:
Pineapple Place Apartments
Casa Pellegrino Boutique Hotel
Come relax and leave renewed.