I used to feel a little apologetic telling people that I was born in Florida and had never moved away. In truth, I would explain, there was no need. The world came to me.
As a journalist first, then an oral historian, I've had a front-row view of South Florida's evolution over the decades, especially in terms of multicultural tourism.
Mind you, I grew up in North Florida, but I have lived in Greater Fort Lauderdale all of my adult life. And, while I travel a lot domestically and internationally and adapt easily to different locales, somehow this one has always felt like home.
So, when the holiday season comes around, maybe because I tend to stay put more, I find myself reflecting a lot about how much things have changed over time.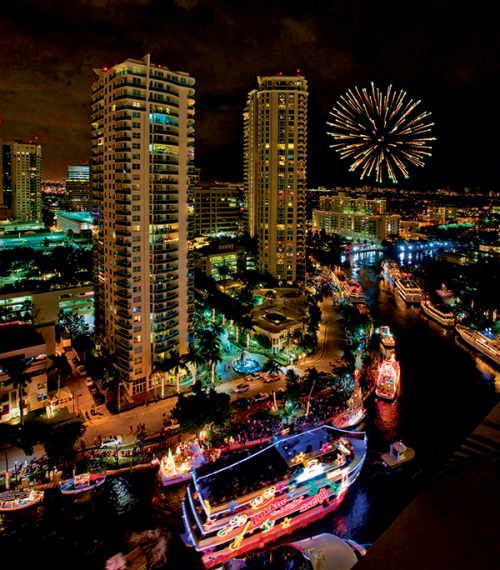 The annual Winterfest Boat Parade is an example. This signature event for the area sets sail once again on December 14 for the 48th year.
I remember when it consisted of just a few festive yachts owned mostly by well-heeled snowbirds and local characters in the '70s when the area was struggling with racial integration. The flotilla mushroomed in the '80s and '90s with celebrity grand marshals, television coverage, and crowd appeal to visitors and locals as Broward County's communities of color expanded in size and diversity.
In the new millennium, the reputation has become solidified as the Seminole Hard Rock Winterfest Boat Parade, collecting awards and global attention. Special activities dot the calendar for months leading up to the big weekend. The mission today is notable, culturally: to produce wholesome, unique, internationally recognized events that enhance Fort Lauderdale's image and reflect the diversity and culture of South Florida.
A couple of years ago, members of the African American sorority Delta Sigma Theta's national board made racial history riding on a lead boat in that year's parade.
History can serve to not only highlight triumphs or losses from the past. It can also give us a broader perspective on the present.
Some of us remember when life revolved around "the season" from Christmas to Easter when visitors jam-packed the roadways and provided work for struggling locals, and then disappeared, and from the summer on things were "dead." When there was no Disney World and attractions nearby. When international flights (and boats) brought immigrants, not tourists, neglected communities were not looked at as heritage neighborhoods, and the term "a Broward County first" was usually reserved for an individual effort to breakdown a racial barrier.
Today, Greater Fort Lauderdale leads the U.S. in the diversity of cultures and languages represented and the leadership at the county and municipal levels reflect that diversity as well. The area is the top destination of choice for travelers of color nationally, and for meetings of high-profile, influential groups of national prominence in government, business, social justice activism, and professions.
The terrain will continue to shift as the area continues to grow – which I enjoy - but one thing remains constant for me.
When I return from one of my traveling adventures, by car or plane, and the landscape begins to slowly change as I approach, there's nothing as welcoming as the sun and open-armed expanse of sky that greets me. This is still the prettiest place I've ever seen.