The Caribbean community in Greater Fort Lauderdale encompasses a diversity of cultures from the African Diaspora. The largest population is West Indians of Haitian and Jamaican descent, and Black Hispanics from the islands make up 12% of the Spanish-speaking population.
By comparison, estimates of the number of residents who identify primarily as Bahamian today are small – a little over 1%. However,
Bahamians have been crucial to the growth and development of Broward County since its inception and if you look closely, you'll find that the cultural imprint is still there.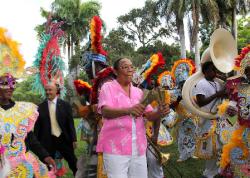 Bahamians were among the earliest immigrants recruited to work at the turn of the century as the county was being settled. Dania, the first incorporated community in 1904, still has descendants of some of those early islanders living there today in what is now known as the city of Dania Beach, just south of the Fort Lauderdale International Airport.
The neighboring "sister" community of Liberia in Hollywood is dotted with Bahamian-style homes constructed by self-taught immigrant craftsmen, sometimes with materials they imported to the U.S. Vibrant cultural threads can also be traced southward to Hallandale Beach and northward to Deerfield Beach.
The city of Pompano Beach continues to honor the historical prominence of the Rolle family, and Emmy-winning actress Esther Rolle who was born there. Her creative contributions are preserved in Special Collections at the African American Research Library and Cultural Center in Fort Lauderdale and exhibited for public programs.
June is National Caribbean-American Heritage Month and, as you would expect, celebrations in Greater Fort Lauderdale include activities showcasing a number of Caribbean countries.
There are family-friendly events such as the Haitian Heritage and Cultural Arts Celebration in Pompano Beach and the Caribbean Village Music, Arts, Food & Wellness Festival at Central Broward Regional Park in Lauderhill which has the area's largest Jamaican community.
The History Fort Lauderdale museum along the downtown Riverwalk is featuring "The Island Imprint: A History of the Caribbean Community in Broward County." The exhibit includes fine art, historical news clippings, memorabilia and artifacts on the diverse influence of island culture.
In Miramar, the "Caribbean Colorful Diversity" exhibit continues at the Ansin Family Art Family Gallery at the Miramar Cultural Center in partnership with the Latin American Art Pavilion. The artistic works highlight the history of the Hispanic-Caribbean region and cultural identities shaped by European colonialism, African heritage, and native Indian tribes in terms of customs and traditions. 
Bahamian music, Goombay and Junkanoo arts, and salutes to the island's upcoming independence celebration will be highlighted at some of these events. But a great way to experience Bahamian heritage locally this month is through the food.
Jamaicans have jerk. Trinidadians have roti. Haitians have bouillon.  The Bahamian experience is breakfast with mutton, chicken and sardines or fish stewed and steamed – and conch all day long.
My personal favorite is conch salad - a staple on my menu at home. I had my first taste decades ago on a dock in Nassau. It was fresh caught and pulled from the shell, diced and soaked hours in the juice of a tree-lime marinade, then spiced with tomatoes, onions, peppers, and hot sauce and soaked up with a companion slice of hot homemade bread. Of course, fritters and chowder are also popular.
But you can also find it steamed, scorched, cracked, or grilled at restaurants such as Conch Heaven in Plantation and Conch Krawl in Miramar as well as island namesakes the Bahamian Reef Seafood Restaurant in Sunrise, and Finley's Bahamian Restaurant in Pompano Beach.
Bahamian culture adds a subtle but distinctive flavor to Greater Fort Lauderdale's Caribbean Heritage experience.