This year's Halloween may be different from years past, but Greater Fort Lauderdale has plenty of fun ways to celebrate the holiday. After all, your creative and coordinated costumes deserve to be flaunted. Timeless photos of the kids trick-or-treating are a must, and Halloween wouldn't be the same without a spooktacular haunted house. Greater Fort Lauderdale offers a variety of memorable and thrilling Halloween experiences for all, plus unique ways to celebrate this year's blue full moon.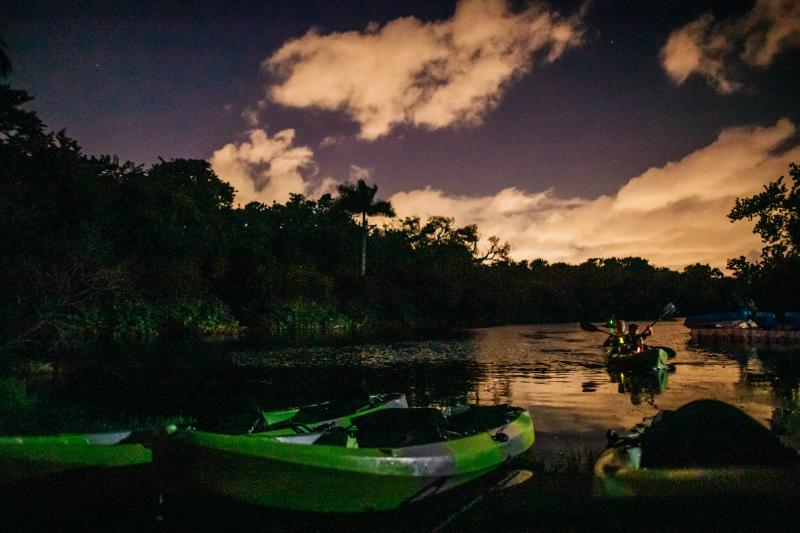 1. Kayak under the blue full moon
A full moon occurs on Halloween only every 18 to 19 years, and this year's Halloween full moon is also a blue moon, since it's the second of two full moons in the month of October. Celebrate this doubly rare occurrence on one of two full moon kayak paddling tours offered at each of Greater Fort Lauderdale's beachfront state parks. At Dr. Von D. Mizell-Eula Johnson State Park in Dania Beach, paddle the winding, watery trails of Whiskey Creek and work up an appetite for treats. Enjoy s'mores and refreshments around the campfire that awaits you at the end of your journey at Whiskey Creek Hideout. Or, take the moonlight kayak tour at Park & Ocean inside Hugh Taylor Birch State Park. Grab glowsticks and follow your guide on a tour of a fresh water coastal dune lake. Afterwards grab Caribbean and Southern-inspired bites and local craft beer at Park & Ocean restaurant and garden as you take in the full moon oceanfront views of Fort Lauderdale beach.
2. Drive through Horrorland
Experience a haunted house beyond the traditional at Horrorland, South Florida's first drive-thru, touchless haunted house, at Miramar Regional Park. You won't have to worry about getting too close to the undead as you navigate the seven themed houses from your car. Monsters, ghosts, zombies and creatures of the night will accompany you on the other side of the window through immersive scenes, including Alice in Horrorland, Christmas Nightmare, Creepy Carnival, Zombie Apocalypse, Farm of Horrors, Asylum of Darkness and Scream's Cemetery. This 35-minute scream fest is the brainchild of a Cirque du Soleil veteran with more than 20 years of experience in the experiential entertainment business, so you can expect an elaborate fantasy world complete with ghoulish characters, acrobats and unusual activities.
3. Have an Xtreme Halloween
Get in the Halloween spirit with interactive experiences for the whole family at Xtreme Action Park, the largest indoor entertainment venue in Florida. Thrill seekers can venture through a haunted house featuring creatures of the night. You never know who or what awaits you in the woods of Duskfield Springs. Play hide and seek with zombies in an interactive laser tag game or race to the graveyard. Navigate a 40-lap race in the dark on a racetrack complete with fog and spooky surprises. All ages can join the Boogeyman Skate at Xtreme's indoor rink on Halloween. As a live DJ spins, show off your skating skills in your creative garb and you just might win the costume contest.
4. Experience Haunt Drive
The picturesque Tree Tops Park in Davie turns into Haunt Drive in October. Coast in your car, but be aware of the Tree Tops Forest Witch and her minions as they prey on those who wander too close to her home. For even more unexpected twists and scream worthy moments, add on the Dark Woods Walk. Step out of the safety of your car and follow the path to the witch's lair if you dare. Family-friendly drives during daylight are available on select dates, and for younger children, there is a one day only free drive & treat.
5. Catch a Halloween flick
Something about being in a car and watching a scary movie, especially on Halloween, is your idea of a good time. Look no further than the 14-screen drive-in theater at the Swap Shop in Sunrise, one of the world's largest drive-in theaters. Open 365 days a year, you'll have plenty of opportunities to catch various scary movies leading up to October 31st or on the day itself from the comfort of your car in Greater Fort Lauderdale.
6. Tour local haunts
Tour the historic Stranahan House, which served as a trading post, post office, town hall and home to Fort Lauderdale's founding father. This museum has a bone-chilling history of mysterious deaths. If you dare, visit some of the spirits that are said to remain inside Greater Fort Lauderdale's oldest surviving structure. Paranormal investigators have confirmed six entities that make Stranahan House their home.
7. Celebrate the fall season
Flamingo Gardens in Davie features harvest festivals on weekends in October. Each weekend features a different theme from superheroes and villains to creatures and critters. Meet costumed characters and live animal ambassadors. Spot scarecrows and enjoy a scavenger hunt to find treasure.
8. Trick-or-treat at Gulfstream Village
No tricks, just treats this Halloween for Gulfstream Park Village's annual 'Not So Spooky' Halloween! Start Halloween festivities early on Friday, October 30, from 6:30–8 p.m., with a socially distanced and safe alternative to neighborhood trick-or-treating. This event will offer a ghostly good time for families and kids of all ages. Kids are encouraged to dress in costume as they collect candy and sweets from more than 20 participating merchants in Gulfstream Park Village.
9. Drive-thru trick-or-treat
Bring the whole family on a drive-thru experience. Load your car with your fancy princesses, legendary superheroes, spooky ghosts and mischievous goblins are you enjoy multiple trick-or-treat stations along each route at Snyder Park (October 24 from 1-5PM) and Osswald Park (October 31 from 1-5PM), both in Fort Lauderdale. All stations are accessible from the safety of your own vehicle and social distancing will be in effect.
10. Trunk-or-Treat
Look for Trunk-or-Treat experiences throughout Greater Fort Lauderdale or plan your own with family and friends. Line up the cars or park in a circle and pop open the decorated trunks for a social distancing trick-or-treat experience. Ghosts and goblins of all ages will enjoy roaming from vehicle to vehicle, collecting candy and Halloween treats as they go. If you need inspiration to get your trunk decked out, try turning your open-trunk cars into open-mouthed monsters or recreating a set from your favorite movie or TV show. Whether the trunk matches your costume or has a theme on its own, get ready to show off your decorative flair and create a fun, safe way for kids to fill their candy buckets this Halloween.