Vancouver to Venezuela. Bangor to Bolivia and all points in between. Greater Fort Lauderdale is gearing up to host the most fabulous event the Western Hemisphere has ever seen: Pride of the Americas. Members of the LGBT+ community from across the Americas and dozens of countries will descend on Broward County, Florida, in the fall for a week of education, fashion show, festival and world-class entertainment.
Destination Pride
There is no better place in the world to host the premiere Pride of the Americas than Greater Fort Lauderdale, which has a well-deserved reputation for being the LGBT+ capital of Florida and a top destination in the U.S.A. for the diverse and growing LGBT+ community.
"Diversity and inclusion is very much a part of our DNA here in Greater Fort Lauderdale," says Richard Gray, Senior Vice President of Diversity, Equity and Inclusion for the Greater Fort Lauderdale Convention & Visitors Bureau. And that's a claim that's backed up from the moment you step off the plane or drive into town. Spirit Airlines is the event's official air carrier and has a hub at the Fort Lauderdale-Hollywood International Airport (FLL). Once you land, step into gay resort heaven! Passport Magazine, an award-winning LGBT+ travel magazine, is the event's diamond media sponsor, and will be covering the event all week long.   
Dazzling Events
The week-long event will take place all over Broward County, so you don't have to worry about only seeing one section of the amazing gay life the area offers. A grand opening night ceremony & gala, and the celebration of Earth Day, is set to go down at the Museum of Discovery & Science.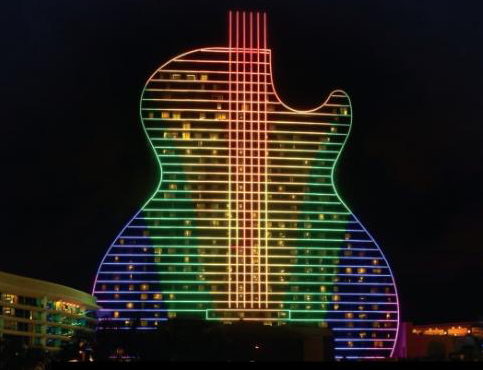 There will be some serious stylin' and profilin' going on at the Seminole Hard Rock Hotel & Casino, which is the venue for the annual Pride Runway Fashion Show. In true Pride of the America's form, the clothes are kicking up the fierceness a notch or two with designs by both local designers and alumni from Bravo's "Project Runway." While you're there, you can check out the new Guitar Hotel. Shaped like the body of a guitar, it lights up at night and puts on a multicolored neon display at 7:30 and 8:30 p.m. It's the only one like it in the world and definitely worth a look.
Greater Fort Lauderdale has hundreds of LGBT+ owned businesses. From transportation and lodging to dinner and drinks, visitors have opportunities to support the businesses supporting them and the massive Pride of the Americas. Wilton Manors is the hub of gay life in South Florida. Dozens of bars, restaurants, and shops crowd Wilton Drive. The phrase 'something for everyone' may sound cliché, but on Wilton Drive there really is something for everyone. 
There will be lots of other events, including philanthropic plans for a Day of Service. You can also find seminars for topics like health, transgender issues, and business. 
Beach Bonanza
While all those inland activities are great, the crown jewel of Pride of the Americas takes place at the crown jewel of Greater Fort Lauderdale: the beach! This is the only Pride in America that's held on a beach, and once you get a look at the view, you'll know no other beach could even come close.
Bring your sunscreen and a good pair of sandals or flip-flops, because the edge of the ocean is the edge of paradise at Fort Lauderdale beach, the epicenter for Pride of the Americas. There will be a Pride Parade like you've never seen. It will march down the iconic A1A Scenic Highway featuring fab floats, dancers, music, and more. 
A huge stage on Fort Lauderdale Beach Park will host dozens of live entertainers over the weekend. In addition to the amazing A-list entertainers for the closing acts each night, there will be sassy drag queens, limber dancers, and local talent.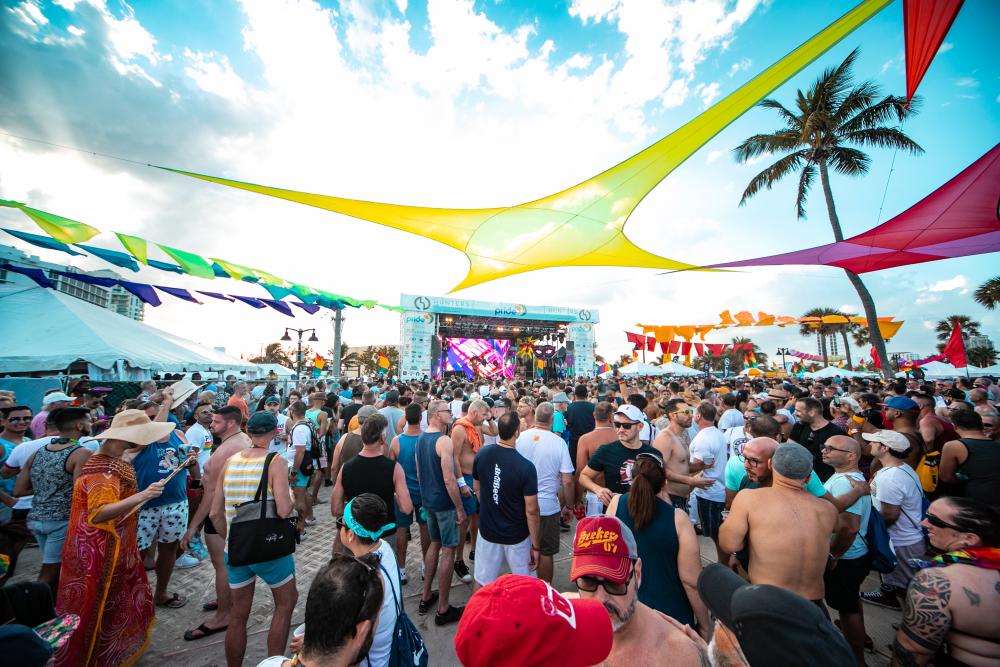 Away from the stage, local bars are setting up satellite locations for the weekend, so there's a good chance that the bartender you saw earlier in the week on Wilton Drive, will pop up at Pride. DJs will be spinning along the beach and a dance floor will be there for some daytime dancing—come on, don't be shy—it's like a tea dance with an ocean setting!
Once you work up an appetite, take a break from the dancing and hit up the row of food trucks. From typical fair food to more exotic customized eats, there are lots of options for any palate. 
Stay and Play
When choosing a place to stay, you have plenty of options. From high-rise hotels on the beach to guest houses around Wilton Manors and Oakland Park, you'll be able to find what you're looking for in Greater Fort Lauderdale. 
With events happening up and down the beach, and inland from Wilton Manors to downtown Fort Lauderdale and Hollywood, transportation will be key to getting around. Ride-share services go all over Broward County and surrounding counties, but plan ahead. Peak times can bring longer waits and surge pricing. There are also plenty of taxi companies roaming around hotels and hot spots, and their phone numbers are easy to remember—once you see them, you'll understand!
Getting to the beach events on Saturday and Sunday will come with extra help. If you're staying away from Fort Lauderdale beach, plans are in the works for a shuttle service. Routes and pick-up points are still being finalized, but will be in place for the big weekend.
From the opening ceremony to closing event, when they'll name the host city for the next Pride of the Americas, there will be after-parties each night. So pack some extra vitamin C, because it's gonna be a busy, but fun-filled week in Greater Fort Lauderdale.
For even more information on Pride of the Americas, visit the official event website.