Visit Lauderdale celebrates a new brand, a new look and everyone under the sun.
You know Greater Fort Lauderdale as a sunny destination with 24 miles of golden beaches meant for recharging and splashing in clear-blue waters – but that's just one of our many sides and perks. As Greater Fort Lauderdale continues to morph into a cosmopolitan destination, Visit Lauderdale is also evolving.
If you look around the website and across Greater Fort Lauderdale, you'll notice we have refreshed our tourism destination brand and logo to reflect the area's always-inclusive community. Our new logo prominently features a sun, mirroring our warm and picturesque destination; and the "Everyone Under the Sun" tagline, which celebrates our diverse community of visitors and residents. After all, there are 31 municipalities boasting people from more than 170 countries who call this area home.
For locals and visitors that means the chance to explore communities packed with various cultures, eclectic culinary flavors and endless activities. It's the chance to meet new people and try something different. Regardless of gender, size, race, age, sexual orientation or religious beliefs, Greater Fort Lauderdale welcomes everyone under the sun.
Art Comes Alive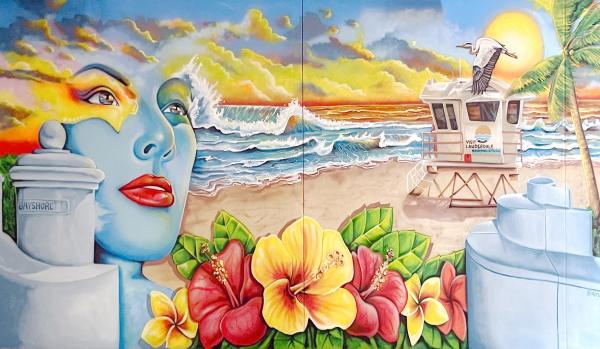 Expect to see our brand's new logo sprinkled throughout Greater Fort Lauderdale. Whether you're there to stay or play, the W Fort Lauderdale now features a breathtaking mural by airbrush artist Avi Ram. Ram's vibrant mural depicts Mother Nature looking out over the beauty of Greater Fort Lauderdale – a sunrise, the beach, tropical flowers and the iconic wave wall along A1A – along with Visit Lauderdale's logo and destination tagline which can be spotted on a beach lifeguard stand. Her welcoming expression is representative of the destination's open-hearted acceptance of a diverse group of locals and visitors. Ram, who's well-known for his camouflage body painting, used his airbrush magic to incorporate several people into the mural's scenery to showcase the area's broad community. The mural literally came alive during the artist's reveal in April, as those camouflaged models emerged from the scene for a compelling message of inclusivity.
Activities Abound
One of the most exciting ways to experience our new look is on the always-active waterways. Hop on a Water Taxi where our flags whip in the wind as the boats cruise the New River and Intracoastal Waterway, making numerous stops at prime attractions and restaurants as knowledgeable crew members narrate the trip. Or go west to zoom through the Everglades on an airboat ride with Sawgrass Recreation Park; the boats proudly display our flags as they wind through the river of grass while guides point out native plants and active wildlife like alligators and birds.
Cheers to New Beginnings
Visit Lauderdale has also partnered with Gulf Stream Brewing Company to concoct a new beer sporting our logo to celebrate the occasion. Always boasting an immersive experience, visitors can watch the crew craft their beer on site, crush a few beers while playing games with friends, and grab a bite to eat. Everyone is welcome – including dogs – in the taproom and on the outdoor patio. You'll also find the new flags flowing in the wind at prime locations like the Riverside Hotel and Wild Sea Oyster Bar & Grille on bustling Las Olas Boulevard.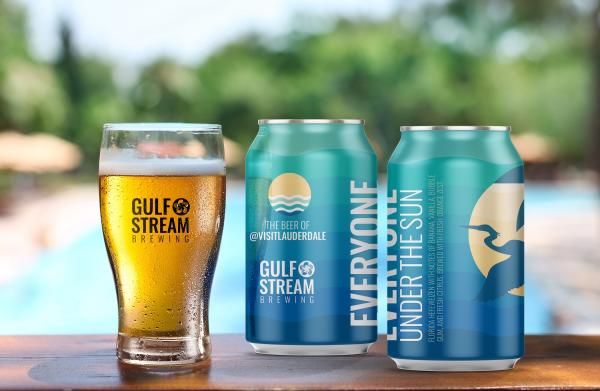 Other locations are scenic Esplanade Park in Fort Lauderdale, an ideal spot for soaking up life along the bustling New River; the Visitor's Center at adorable Lauderdale-By-The-Sea; City Hall, Ansin Sports Complex, and Miramar Regional Park in Miramar where activities like soccer, football swimming and more abound; along with prominent spots in Hallandale Beach, Pembroke Pines, Lauderdale Lakes, Cooper City and Southwest Ranches.
We challenge visitors and locals to discover our new flags, mural and logos across Greater Fort Lauderdale, take a snapshot, and tag us on social media at #VisitLauderdale and #EveryoneUnderTheSun for the chance to be featured. See you under the sun!