The week leading up to and after the full moon in August is the best time of the year to catch a wahoo off Greater Fort Lauderdale, Florida.
Reaching speeds of up to 60 miles per hour, wahoo are among the fastest fish in the ocean. When they eat a bait, it's literally off to the races as a wahoo will scream hundreds of yards of fishing line off a reel without slowing down. All an angler can do is hold on to the fishing rod and, when the fish stops, reel in as fast as possible.
The full moon is August 11th, which means fishing from August 4th to 18th is a prime time to catch a hard-fighting, great-tasting wahoo.
August 6th is when the regular lobster season opens and it runs through March 31. Divers can catch themselves a delicious dinner whether they go on a private boat, a dive charter boat or simply swim a few hundreds yards off the beach from Deerfield Beach to Hollywood and search the coral reefs and rock piles where the tasty crustaceans hang out.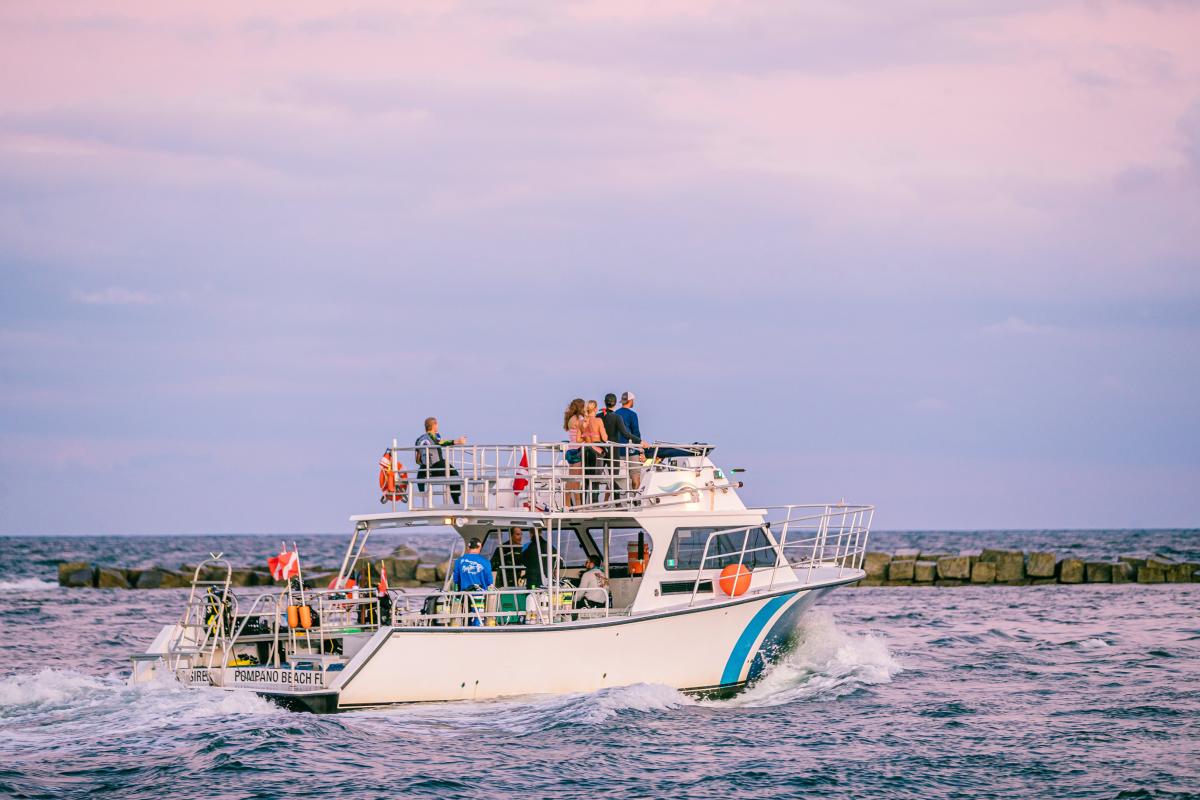 Saltwater Fishing
Although wahoo bite year-round off Greater Fort Lauderdale, the most memorable catches are around the August full moon because that's when the biggest wahoo are biting. The average August wahoo can weigh anywhere from 30 pounds, which is a great fish, all the way up to 70 pounds, which is the fish of a lifetime.
Deep sea fishing charter captains who skipper their boats out of Hillsboro Inlet in Pompano Beach and out of Port Everglades Inlet in Fort Lauderdale consider the stage of the tide and the location of schools of baitfish when they target wahoo.
During a high tide, when ocean water is flowing into the inlets, baitfish such as ballyhoo and flying fish are close to the inlets in 80 to 200 feet of water. Schools of small bonito, which are in the tuna family, chase those baits and they, in turn, attract wahoo, which love to eat bonito. On a low tide, when water is flushing out of the inlets, the baitfish will be around shipwrecks and artificial reefs in 200 to 400 feet of water.
Some Hollywood Florida fishing charters use live bonito of 3 to 5 pounds for wahoo bait. They'll troll slowly, putting their fishing boat's engines in and out of gear just to keep the live bait swimming forward.
Many Fort Lauderdale fishing charters like to troll at 7 to 9 knots with a whole dead ballyhoo or a strip made from the belly of a bonito placed behind a flashy synthetic skirt known as a Sea Witch. A variety of skirt colors produce wahoo bites, although blue-and-white and black-and-red Sea Witches are the most popular colors. Those bait and lure combos also catch dolphin, which are plentiful this time of year.
Freshwater Catches
Summer rainstorms, especially in the afternoon, raise the water levels in the canals in the Everglades. Being on the water as the sun is rising, and when August temperatures are at their coolest, is more comfortable for fish and fishermen. An early start is also a good way to avoid getting caught in a downpour.
The high water allows fish to swim into the marshes bordering the canals. But there are still plenty of largemouth bass and peacock bass in the canals. Among the most exciting, effective ways to catch them is by casting topwater plugs and hard jerkbaits to the edge of the vegetation lining the canals. Aluminum fishing boats can be rented at Broward County's Everglades Holiday Park at Griffin Road and U.S. Highway 27 or at Sawgrass Recreation Park on U.S. Highway 27 north of I-75. 
What to Know Before You Go
On many August days there is hardly any wind, which makes the Atlantic Ocean look like a giant lake off Greater Fort Lauderdale, Florida beaches. The lack of waves makes for comfortable boating for anglers and divers, but fishermen generally prefer some wind, which oxygenates and cools the water.
What's Up Ahead in September
The snook season opens September 1st and that has anglers fishing around inlets, in the Intracoastal Waterway and from Greater Fort Lauderdale fishing piers for the hard-fighting, tasty fish. Farther offshore, the fishing for colorful dolphin fish is excellent.